'Disenchantment' Trailer: 'The Simpsons' And 'Futurama' Creator Matt Groening Heads To Netflix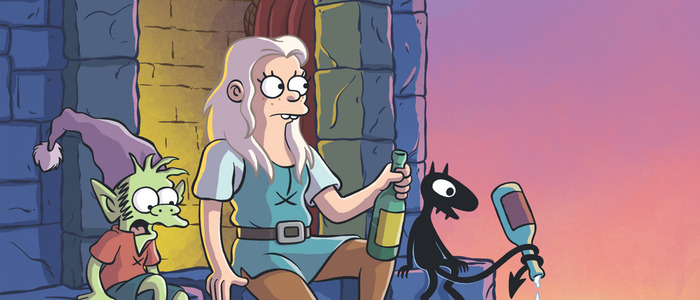 Matt Groening, creator of The Simpsons and Futurama, is headed to Netflix with Disenchantment. The new animated series looks very much like a reboot of Futurama set in the far past instead of the distant future, right down to the animation style and voice cast – and I'm a-okay with that. Watch the Disenchantment trailer below.
Disenchantment Trailer
This is a teaser, so there's not a whole lot to go on here. But it's clear from this footage that Disenchantment is going to very much in-line with Futurama. Not only is the style of humor similar, but the look of the show is almost identical to Futurama. And there's a good reason for that – Rough Draft Studios, who handled Futurama's animation, is in charge of Disenchantment as well. Even much of the voice cast is the same. To be clear, I'm not complaining! For most of its run, Futurama was one of the best animated shows on TV, balancing both absurdist humor and heartfelt pathos. I'm all for new shows emulating that same model.
In Disenchantment, "viewers will be whisked away to the crumbling medieval kingdom of Dreamland, where they will follow the misadventures of hard-drinking young princess Bean, her feisty elf companion Elfo, and her personal demon Luci. Along the way, the oddball trio will encounter ogres, sprites, harpies, imps, trolls, walruses, and lots of human fools."
The show features a voice cast that includes Abbi Jacobson ("Bean"), Nat Faxon ("Elfo") and Eric Andre ("Luci"), along with John DiMaggio, Billy West, Maurice LaMarche, Tress MacNeille, David Herman, Matt Berry, Jeny Batten, Rich Fulcher, Noel Fielding, and Lucy Montgomery.
"Disenchantment will be about life and death, love and sex, and how to keep laughing in a world full of suffering and idiots, despite what the elders and wizards and other jerks tell you," said Matt Groening.
Cindy Holland, Vice President, Original Content for Netflix, added: "Matt Groening's brilliant work has resonated with generations around the world and we couldn't be happier to work with him on Disenchantment...The series will bear his trademark animation style and biting wit, and we think it's a perfect fit for our many Netflix animation fans."
Bill Oakley and Josh Weinstein, who've worked with Groening on both The Simpsons and Futurama, are serving as executive producers. Disenchantment joins the ranks of other Netflix original animated shows like BoJack Horseman and the upcoming Tuca & Bertie. 
Look for Disenchantment streaming on Netflix on August 17, 2018.