'Black Panther' Rules The Saturn Awards, 'The Shape Of Water,' 'Blade Runner 2049' And 'Get Out' Also Score Wins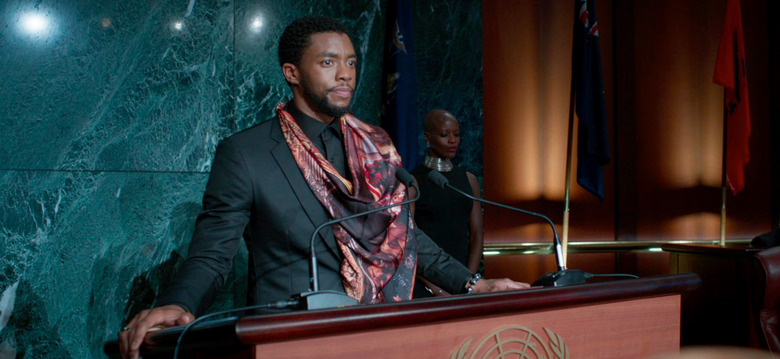 Could this be the beginning of Black Panther's road to the Oscars? Don't dismiss the Marvel blockbuster, which walked away with five wins at the 44th Annual Academy of Science Fiction, Fantasy, and Horror Films awards on Wednesday.
Black Panther reigned over the 2018 Saturn Awards ceremony, earning more wins than last year's genre favorites like Get Out, The Shape of Water, Blade Runner 2049, and Star Wars: The Last Jedi  — all of which scored a fair number of their own trophies.
After sweeping last week's MTV Movie Awards, Black Panther took home five Saturn Awards, including Best Comic-to-Film Motion Picture and Best Director for Ryan Coogler. But the Panther himself, Chadwick Boseman, lost out to The Last Jedi's Mark Hamill for Best Actor, who finally got much-deserved recognition for his brilliant and career-best performance in Luke Skywalker's swan song. The Last Jedi earned another win for director Rian Johnson's screenplay.
The awards were pretty evenly spread out through the wealth of categories. Blade Runner 2049 walked away with Best Science Fiction Film, while The Shape Of Water won Fantasy Film, Get Out won Horror Film, Coco won Animated Film, and Wonder earned the award for Independent Film. And unlike the Oscars, Wonder Woman earned some awards respect, with Gal Gadot winning Best Actress.
See the full list of award winners below.
FILM AWARDS:
Best Science Fiction Film: Blade Runner 2049
Best Comic-to-Film Motion Picture: Black Panther
Best Fantasy Film: The Shape of Water
Best Horror Film: Get Out
Best Action/Adventure Film: The Greatest Showman
Best Thriller Film: Three Billboards Outside Ebbing, Missouri
Best International Film: Baahubali 2: The Conclusion
Best Animated Film: Coco
Best Independent Film: Wonder
Best Actor: Mark Hamill (Star Wars: The Last Jedi)
Best Actress: Gal Gadot (Wonder Woman)
Best Supporting Actor: Patrick Stewart (Logan)
Best Supporting Actress: Danai Gurira (Black Panther)
Best Performance by a Younger Actor: Tom Holland (Spider-Man: Homecoming)
Best Director: Ryan Coogler (Black Panther)
Best Writing: Rian Johnson (Star Wars: The Last Jedi)
Best Production Design: Hannah Beachler (Black Panther)
Best Editing: Bob Ducsay (Star Wars: The Last Jedi)
Best Music: Michael Giacchino (Coco)
Best Costume: Jacqueline Durran (Beauty and the Beast)
Best Make-Up: Joel Harlow, Ken Diaz (Black Panther)
Best Special Effects: Christopher Townsend, Guy Williams, Jonathan Fawkner, Dan Sudick (Guardians of the Galaxy Vol. 2)
TELEVISION AWARDS:
Best Science Fiction TV Series: The Orville
Best Horror TV Series: The Walking Dead
Best Action/Thriller TV Series: Better Call Saul
Best Fantasy TV Series: Outlander
Best Presentation on Television: Twin Peaks
Best Animated TV Series: Star Wars Rebels
Best Superhero Adaptation Television Series: The Flash
Best New Media TV Series: Star Trek: Discovery
Best New Media Superhero Series: Marvel's The Punisher
Best Actor on Television: Kyle MacLachlan (Twin Peaks)
Best Actress on Television: Sonequa Martin-Green (Star Trek: Discovery)
Best Supporting Actor on Television: Michael McKean (Better Call Saul)
Best Supporting Actress on Television: Rhea Seehorn (Better Call Saul)
Best Younger TV Actor: Chandler Riggs (The Walking Dead)
Best Guest Star on Television: David Lynch (Twin Peaks)
HOME ENTERTAINMENT AWARDS:
Best DVD/BD Release: Dave Made a Maze
Best DVD/BD Classic Film Release: Lifeboat
Best DVD/BD Collection Release: Dracula Complete Legacy Collection
Best DVD/BD Television Series Release: American Gods (Season 1)
Best DVD/BD Special Edition: Night of the Living Dead (Criterion Collection)
Best Local Stage Production: Something Rotten
SPECIAL ACHIEVEMENT AWARDS:
The Producers Showcase Award: Jason Blum
The Dan Curtis Legacy Award: Sarah Schechter
The Special Achievement Award: Don Mancini ("Chucky")
The Filmmakers Showcase Award: Jake Kasdan