Trailer Round-Up: 'The Deer Hunter', 'Skate Kitchen', 'Zoe', 'Dead Night', 'Our House', 'Mobile Suit Gundam NT'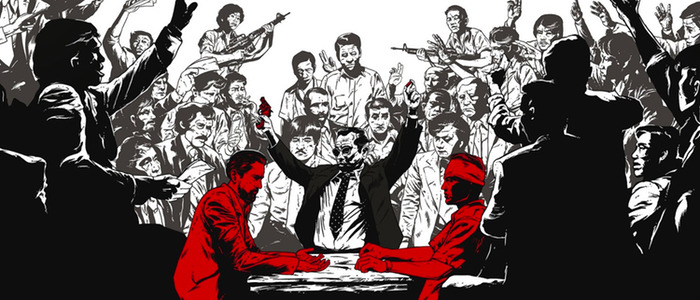 If you're looking for several different trailers in one spot, you've come to the right place. Our trailer round-ups are here to offer you some movie trailers that might have flown under your radar. Below you'll see trailers for The Deer Hunter restoration, the indie drama Skate Kitchen, the sci-fi romance Zoe, horror films Dead Night and Our House, and the anime Mobile Suit Gundam NT (Narrative).
The Deer Hunter Trailer
Michael Cimino's 1978 masterpiece The Deer Hunter is returning to theaters with an all-new 4K restoration. The film will eventually arrive on 4K Blu-ray this summer. Cimino's tragic saga follows lifelong friends from a working-class Pennsylvania steel town as they "prepare to ship out overseas following Steven's elaborate wedding and one final group hunting trip. In Vietnam, their dreams of military honor are quickly shattered by the inhumanities of war; even those who survive are haunted by the experience." The film portrays the horrors of war, as well as the PTSD that follows. It's a crushing, devastating film, featuring Robert De Niro, John Cazale, John Savage, Meryl Streep and Christopher Walken, giving one of the best performances of his career. The footage in this restoration trailer looks truly stunning. The restored 4K print will be re-released in UK cinemas starting on July 4, 2018. There's no word on a U.S. theatrical re-release yet, but hopefully we'll know soon.
Skate Kitchen Trailer
Skate Kitchen is the first narrative film from Crystal Moselle, director of the documentary The Wolf Pack. The indie drama focuses on "Camille, an introverted teenage skateboarder (newcomer Rachelle Vinberg) from Long Island" who "meets and befriends an all-girl, New York City-based skateboarding crew called Skate Kitchen. She falls in with the in-crowd, has a falling-out with her mother, and falls for a mysterious skateboarder guy (Jaden Smith), but a relationship with him proves to be trickier to navigate than a kickflip." I find the title Skate Kitchen slightly clunky, but this trailer is well-edited, and early reviews for the film have been stellar. It's sitting at 100% on Rotten Tomatoes at the moment, with IndieWire saying, "Skate Kitchen turns its subjects into a fascinating microcosm of American youth." Look for Skate Kitchen in theaters August 10, 2018.
Zoe Trailer 
Drake Doremus, director of Equals and Like Crazy, is back with another indie romance. The film is Zoe, and its trailer throws off some Black Mirror vibes. The film is a "haunting tale of forbidden love between a robotic engineer and a synthetic robot. ZOE (Léa Seydoux) and COLE (Ewan McGregor) are colleagues and veiled lovers at Relationist Labs, a cutting-edge research lab committed to designing powerful technology to improve and perfect romantic relationships. However, their relationship is threatened when Zoe discovers a harsh truth about their relationship, sending them into a tumultuous spiral of confusion, betrayal and the most intense of human emotions, love." Also: Christina Aguilera is in the movie. Other cast members include Rashida Jones, Matthew Gray Gubler, and Miranda Otto. Zoe looks like it has potential, primarily due to the soft-focus cinematography that makes the film seem extra dreamy. Zoe arrives on July 20, 2018.
Dead Night Trailer 
Barbara Crampton, one of the hardest-working women in horror, stars in Dead Night. In the horror flick, "James and his wife Casey load up their two teenage kids and head out to a remote cabin in Oregon for a weekend trip. When James heads into the snowy forest in search of firewood, he encounters an enigmatic woman passed out in the snow. Bringing her back to the cabin for help, the family has no way of knowing that the woman's presence is the catalyst for a series of events that will change their lives forever." I love the look of this trailer – the snowy, wintry vibe is atmospheric as hell, and I'm here for it. In addition to Crampton, Dead Night stars Brea Grant, AJ Bowen, Sophie Dalah, Elise Luthman, Joshua Hoffman, and Daniel Roebuck. Dead Night opens in theaters and on VOD July 27, 2018.
Our House Trailer 
If you're looking for more horror, here's a trailer for Our House. In the new IFC Midnight film, Ethan (Thomas Mann) is forced to leave behind college and his girlfriend (Nicola Peltz) to care for his younger brother and sister when his parents are killed in a car accident. "By day, he juggles the responsibilities of raising two kids; by night, he tinkers in the garage on an invention he hopes will change the world: a machine that can generate wireless electricity. He gets more than he bargained for, however, when the device awakens the dead souls that haunt the house. As Ethan and his siblings attempt to make contact with their parents, a horrifying realization sets in: not all the spirits in their midst may be friendly. This hair-raising science-fiction ghost story is a nightmare journey into a past that refuses to stay dead and buried." This is a great trailer, and looks like another winner from IFC Midnight, who pump out a steady-stream of indie horror. Our House arrives in theaters and VOD on July 27, 2018.
Mobile Suit Gundam NT (Narrative) Trailer
Folks: I know nothing about anime. Not a damn thing. So I have no idea what Mobile Suit Gundam NT (Narrative) is. But here's a trailer! Here, maybe this synopsis might help:
U.C. 0097. The year the Laplace's Box was opened. Despite the revelation of the original charter for the Universal Century, which acknowledges the existence of Newtypes and their rights, the world remains largely unchanged.After the destruction of the Neo Zeon remnant force known as the
Sleeves, the event that has come to be known as the "Laplace Incident" seems to have drawn to a close. In the final battle, two Full Psycho Frame mobile suits displayed power beyond human imagination. The menace of the White Unicorn and the Black Lion were sealed away from public consciousness, and were consigned to be forgotten by history.
But now sightings of the RX-0 Unicorn 03, long thought lost two years ago, are being reported. Its name is Phenex, an immortal golden bird.
Alright, that didn't help at all. But I'm sure fans of this will love it. Mobile Suit Gundam NT (Narrative) opens in Japan in November. No U.S. release date has been set yet.