Exclusive: The 'Rondo' Trailer Teases One Of The Most Extreme Movies Of The Year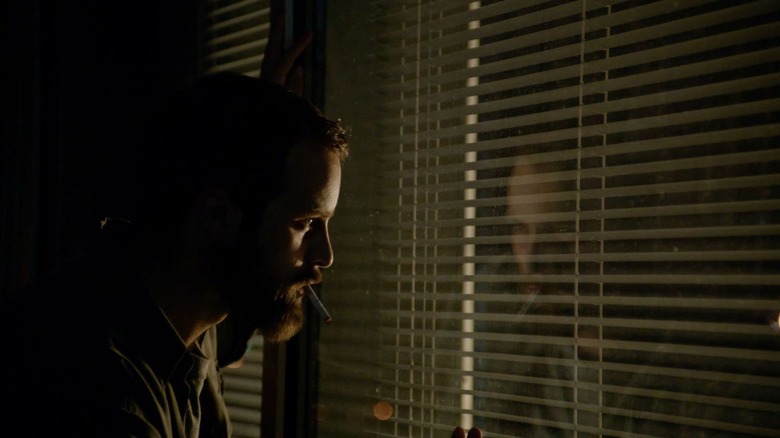 As we gear up for some authentic Canadian poutine and cinematic oddities at Montreal's 2018 Fantasia International Film Festival, /Film has an exclusive first look at one of the programmed titles. The movie is called Rondo, written and directed by Drew Barnhardt. It's been described as "the most extreme film at Fantasia 2018, and likely to be the most controversial" by the same insider who singled out Ryan Prows' Lowlife as a must-see underdog at last year's event. "Hardcore independent cinema from the heart of Middle America, and it pulls absolutely no punches." Oh? I'm all ears and eyes.
Check out the first NSFW trailer for Mr. Barnhardt's Rondo below.
Rondo Trailer
I'm immediately slapped with a grimy Lowlife vibe, only a bit saucier. "Sex. Murder. Revenge." Emphasis on the sex with provocative showings of skin, swinging sledgehammers and spilled blood representing the latter two descriptors. We hear "Stay on the plastic" repeated to a synthy beat, which I'm sure plays into uttered instructions by a killer trying to keep his crime scene spic-and-span. Mix in some other gratuitous grindhouse staples like a lingerie model waving around her assault rifle, and you've got what assumes to be a catastrophic collision of miscreants abound. Certainly not ordinary, as the trailer narration suggests.
It's noted that Rondo was shot in Denver, Colorado, and is billed as a suspenseful comedy that meanders away from safe spaces (I'm sure an abandon of political correctness isn't far behind). Knowing the wide range of genre fare that Fantasia supplies, expect crudeness by way of degenerate, downright uncouth moments crafted for midnight cesspools. Frankly I don't know what to expect based solely on this criminally crazed trailer – and who doesn't love that feeling? We'll have to see what performers Brenna Otts, Gena Shaw, Ketrick "Jazz" Copeland and more have in store for us.
Rondo will premiere at the 2018 Fantasia International Film Festival, which runs from July 12th to August 1st.
Neurotic war vet Paul (Luke Sorge) is having a difficult time dealing with just about anything. Increasingly concerned sister Jill (Brenna Otts) hits her breaking point and insists he sees a therapist. Said therapist feels it's important for Paul to meet new people and all, but forces him to go to a special party, jotting down an address and the secret password that will get him through the door: "Rondo". Doors do open, and before he knows what's happening, Paul finds himself plunged into a bizarre criminal underworld of deviancy and blood. All the plastic in the world won't be enough to contain what's coming as he becomes the proverbial Man Who Knew Too Much and an absolutely insaaaaaane chain of sinister events slams into gear. Did we mention that this is a comedy?