'Assassination Nation' Trailer: Ultraviolent Feminist Thriller Teases A "Trigger Warning"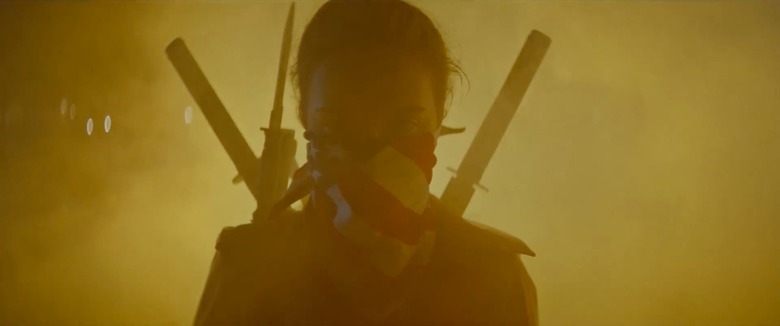 NEON is certainly making a name for itself as a distributor of edgy indie movies, often with a feminist bent. And the studio's newest film, Assassination Nation, looks like it checks all those boxes.
NEON and GOZIE AGBO have released the first red band teaser trailer for the Sundance breakout film, which follows a group of four high school girls who band together after their small town of Salem, Massachusetts descends into madness and violence after an anonymous hacker targets the private lives of all the residents. We're talking violence, strong language, adult content — so much so that the Assassination Nation trailer comes equipped with its own "trigger warning." See the trailer below.
Assassination Nation Trailer
The Assassination Nation trailer screams "What if The Purge, but feminist satire?" The masks, the red, white, and blue attire, and the vigilante ultraviolence seems like a clear twist on the popular horror franchise about a nation that tears itself to bloody shreds once a year. Except this isn't a carefully planned night of murder and gore, but a night where a small town descends into paranoia after a hacker unveils all of its residents darkest secrets. But the fact that the small town happens to be Salem, the location of America's most notorious witch hunt, makes it clear that subtlety has no place in this film.
Written and directed by Sam Levinson (Another Happy Day), Assassination Nation stars a who's who of models and social media It Girls-turned-actresses including Odessa Young, Suki Waterhouse, Hari Nef, Abra, and Bella Thorne. Young stars as high school senior Lily who, along with her tight-knit group of friends, lives in a "haze of texts, posts, selfies and chats." But that all gets disrupted by an anonymous hacker who unveils everyone's darkest secrets, starting a — you guessed it — dangerous witch hunt for the culprit. But Lily and her friends soon decide to enter the fight themselves.
Assassination Nation also stars Bill Skarsgård, Cody Christian, Joel McHale, Maude Apatow, Colman Domingo, and Anika Noni Rose.
Here is the official synopsis for Assassination Nation:
When an anonymous hacker exposes the secrets of the residents of Salem, Mass., four high school girls are out for revenge.
Assassination Nation opens in theaters on September 21, 2018.