'Star Wars: The Clone Wars' Will Celebrate Its 10th Anniversary With A Comic-Con Panel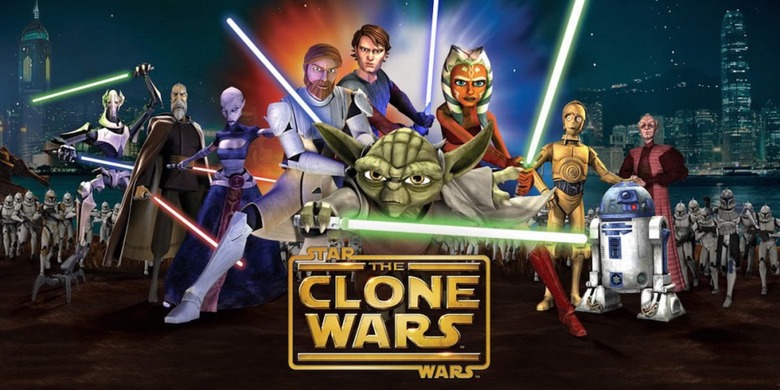 Star Wars: The Clone Wars premiered on October 3, 2008, which means we're approaching its tenth anniversary faster than a speeder bike zipping through a forest of redwood trees. We know Disney is officially sitting out this year's San Diego Comic-Con, but Lucasfilm will be there to hold a Clone Wars Comic-Con panel to look back on the show and its legacy. Read the official press release below.
While I'm sure some fans will be disappointed to hear that Disney/Lucasfilm won't be hosting a big panel about the live-action Star Wars projects, the vocal and passionate Clone Wars fan base has to be pleased with this news. But they'll probably need to line up pretty early to secure a spot to see the panel in person, because this panel won't be taking place in Hall H or even in Ballroom 20: it's slated to happen on Thursday, July 19, from 11:45am–12:45pm in Room 6BCF.
According to the SDCC blog, that room only holds 2,160 people. That's less than half of how many can fit inside Ballroom 20 (4,800) and just under three times the amount of people who can can fit inside Hall H (6,500).
Still, this will be a cool opportunity for fans to see Dave Filoni and some special guests reminisce about the animated series that started it all, eventually leading to Star Wars Rebels and this fall's new anime-inspired show Star Wars Resistance. Maybe one of those special guests will be George Lucas himself – he would certainly receive a rock star's welcome.
Here's the official press release:
Debuting in the summer of 2008, Star Wars: The Clone Wars was Lucasfilm's first-ever CG animated television series which gave fans the opportunity to further explore the characters and storylines introduced in the movie saga.
Created and Executive Produced by George Lucas with Supervising Director Dave Filoni at the helm, the critically-acclaimed series featured epic space battles and dynamic lightsaber duels, but also explored some of the personal triumphs and challenges of the Jedi Knights.
Through cinematic stories with groundbreaking visuals and sound design, The Clone Wars provided a broad expansion of the Star Wars universe over the course of 6 seasons.
To celebrate the 10th anniversary of the Emmy Award-winning series, Executive Producer Dave Filoni and special guests will share a look back on the stories that enriched the Star Wars universe and introduced several fan-favorite characters like Ahsoka Tano and Captain Rex to a galaxy far, far away....?