'Madeline's Madeline' Trailer: The Trippy Sundance Favorite Has An Even Trippier Trailer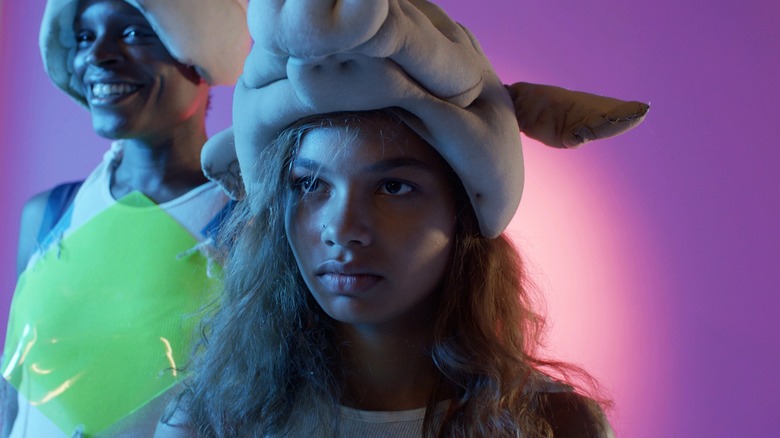 When Madeline's Madeline premiered at Sundance earlier this year, it was hailed as one of the festival's best and boldest films. But simply reading a review couldn't do justice to the weird, surreal, mind-bending movie that is Josephine Decker's ode to the theater.
Madeline's Madeline Trailer
There's not much about the movie's plot that you can glean from the trailer. The bizarre, upbeat trailer is comprised of various images and shots from the film that transform into cardboard cutouts, as the titular Madeline (breakout star Helena Howard) dances about in a cat mask. But perhaps plot isn't important. Madeline's Madeline follows promising young theater actor Madeline who snags the lead role in a play about her life. Soon, the lines between reality and fantasy start to blur and the result is a trippy piece of performance art.
Written and directed by Josephine Drecker, Madeline's Madeline made a splash when it debuted at Sundance this January, with Indiewire's David Ehrlich praising the film as "one of the boldest and most invigorating American films of the 21st century" and The Village Voice's Bilge Ebiri calling it "the best thing I saw at Sundance this year."
It's high praise for one movie, to be sure, but that dazzling, dizzying trailer makes it seem like Madeline's Madeline could live up to it.
Here is the official synopsis for Madeline's Madeline:
Madeline got the part! She's going to play the lead in a theater piece! Except the lead wears sweatpants like Madeline's. And has a cat like Madeline's. And is holding a steaming hot iron next to her mother's face – like Madeline is.
Madeline (newcomer Helena Howard) has become an integral part of a prestigious physical theater troupe.  When the workshop's ambitious director (Molly Parker) pushes the teenager to weave her rich interior world and troubled history with her mother (Miranda July) into their collective art, the lines between performance and reality begin to blur. The resulting battle between imagination and appropriation spirals out of the rehearsal space and rips through all three women's lives.
Madeline's Madeline opens in select New York theaters on August 10, 2018 and expands to Los Angeles on August 17, 2018.