'GLOW' Season 2 Featurette: The Ladies Get Their Wrestle On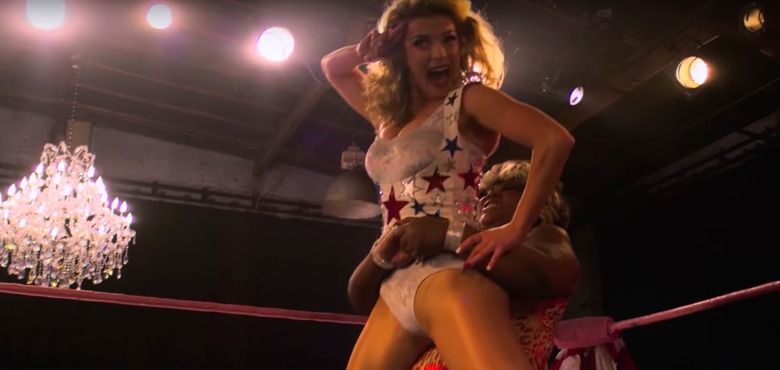 The gorgeous ladies of GLOW have got their glitter and their leotards in place — now it's time to learn a few new wrestling tricks. The latest GLOW season 2 featurette goes behind the scenes of the hit Netflix dramedy series and shows how the fabulous cast learned to hold their own in the ring this time around. Yes, they strike just as many poses as ever, but expect a few more body slams in this second season.
GLOW Season 2 Featurette
GLOW became a surprise success for Netflix last year, debuting to critical acclaim and accumulating a loyal following. Now, season 2 will follow the ladies of GLOW as they deal with their own crisis with fame, navigating the ins and outs of being local celebrities. And with that newfound fame comes even more expectations for bigger hair and bigger wrestling moves.
The cast, which includes Alison Brie, Betty Gilpin, Marc Maron, Sydelle Noel, Britney Young, Britt Baron, Kate Nash, Jackie Tohn, Gayle Rankin, Kia Stevens, Sunita Mani, Rebekka Johnson, Kimmy Gatewood, Ellen Wong, Marianna Palka, Chris Lowell, Shakira Barrera, Bashir Salahuddin, and Rich Sommer, stepped up to the plate for season 2.
The actresses learned all new moves for the show – look forward to Carmen "Machu Picchu" Wade pulling off a scoop body slam) In the featurette, they also emphasized the importance of sisterhood.
GLOW season 2 will premiere on Netflix on June 29, 2018.
Inspired by the short-lived but beloved show from the 80s, GLOW tells the fictional story of Ruth Wilder (Alison Brie), an out-of-work, struggling actress in 1980s Los Angeles who finds one last chance for stardom when she's thrust into the glitter and spandex world of women's wrestling. In addition to working with 12 Hollywood misfits, Ruth also has to compete with Debbie Eagan (Betty Gilpin ) a former soap actress who left the business to have a baby, only to be sucked back into work when her picture perfect life is not what it seems. And at the wheel is Sam Sylvia (Marc Maron), a washed-up, B-movie director who now must lead this group of women on the journey to wrestling stardom.