'Bad Times At The El Royale' Gets Eight New Character Posters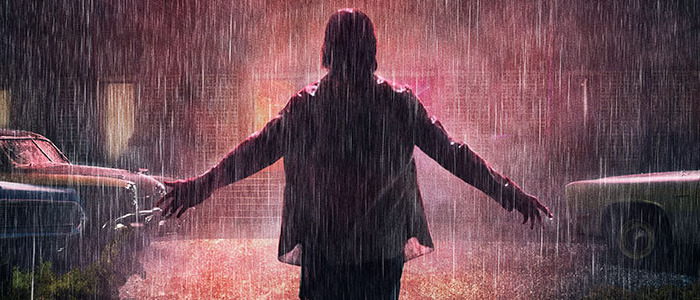 It's 1969, and seven strangers are about to check in to the El Royale, a run-down hotel that previously served as a hotspot for A-list celebrities and politicians. But things aren't what they seem, and both the El Royale and its guests are hiding some dangerous secrets.
20th Century Fox has unveiled a new batch of Bad Times at the El Royale character posters to tease the movie's release this fall. Check them out below.
Writer/director Drew Goddard (The Cabin in the Woods) returns behind the camera for this crime drama, which has an excellent cast. Jeff Bridges, Jon Hamm, Cynthia Erivo, Dakota Johnson, Cailee Spaeny, Nick Offerman, Lewis Pullman, and Chris Hemsworth star, and now they each have their own character poster.
Bad Times at the El Royale Posters
I really like the progression of the setting sun, and especially how the amount of light in each poster seems to mirror what we know about the characters so far. Spaeny (Pacific Rim Uprising) plays an impressionable young girl, so she walks through the daylight with a sort of devil-may-care attitude. Hamm plays a vacuum cleaner salesman, a clean-cut guy who appears to be on the correct side of the moral spectrum. (In the film's trailer, we see him shocked and horrified to learn that there's a secret passage in the hotel that allows someone to peer through a secret window into the guests' rooms.) Erivo plays Darlene Sweet, an innocent soul singer, so her being bathed in sunlight also makes sense.
Bridges, however, plays a guy who presents himself as a priest but is hiding his true identity. That's where the sun begins to dip behind the mountains, showing the start of some moral ambiguity. I won't go through all the rest, but I do like that it ends with Hemsworth in total darkness, because his cult leader character seems like a shark that cuts through this movie and leaves nothing but chaos in his wake. And of course they're all standing right in the middle of the state line between California and Nevada, a line that not only provides a cool division of the titular hotel, but also represents just how easy it is for these characters to teeter into new territory.
Seven strangers, each with a secret to bury, meet at Lake Tahoe's El Royale, a rundown hotel with a dark past. Over the course of one fateful night, everyone will have a last shot at redemption...before everything goes to hell.
Bad Times at the El Royale opens on October 5, 2018.