'Mile 22' Sequel Already In The Works With New Screenwriter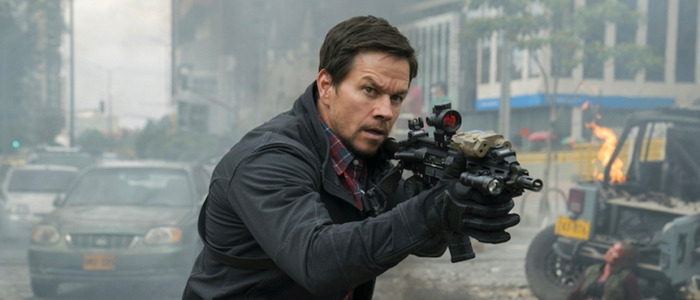 Mile 22 is still months away from release, but the sequel is already moving full steam ahead with a new writer. Umair Aleem, a writer with a script on the coveted Black List, will pen the sequel to the Mark Wahlberg action movie.
Mark Wahlberg, frequent collaborator Peter Berg, and STX Films are really hoping people like what they see when Mile 22 opens in August. Long before Mile 22 even unleashed its first trailer, word broke about possible sequels and even a VR spin-off from the film. Now, the Mile 22 sequel (Mile 23?) is already in the works. THR says Umair Aleem has been hired to write the sequel, which will presumably once again feature Mark Wahlberg saying, "We get s*** done!" while stuff explodes around him.
Aleem wrote the 2017 screenplay Kate, which ended up on the Black List – the annual survey of the "most liked" motion picture screenplays not yet produced. Since then, the film has ended up at Netflix, and Aleem was then hired to pen the script for the comic book adaptation Danger Girl. In Mile 22, Wahlberg stars as James Silva, "an operative of the CIA's most highly-prized and least understood unit. Aided by a top-secret tactical command team, Silva must retrieve and transport an asset who holds life-threatening information to Mile 22 for extraction before the enemy closes in." The film also stars John Malkovich, Lauren Cohan, Iko Uwais, and Ronda Rousey, with a script by Lea Carpenter and Graham Roland.
While plowing ahead with a Mile 22 sequel before the first film even comes out might sound risky, STX is all-in on all-things Mile 22. At last year's CinemaCon, STX Chairman Adam Fogelson brought Wahlberg and Berg out on stage to announce a Mile 22 trilogy. Fogelson added:
"Mark and I have made three films now that are pretty heavy, to put it mildly. For us, to do Mile 22 and something that's fictional, and what we hope to be an intelligent, adult action film that's got a lot of muscle and intensity...It's a piece of fiction we're very excited about it. We're coming at you with a big ass action movie."
In addition to the trilogy of films, STX is also planning a "scripted TV series and VR component." STXsurreal, the VR and immersive content division of STX Entertainment, previously announced The Kiev Exchange, a Mile 22 spinoff described as "a short-form, live-action series." Aleem will write that as well, with Berg directing.
Mile 22 opens on August 17, 2018.