'Guardians Of The Galaxy Vol. 3' Script Is Finished; Filming Begins Early 2019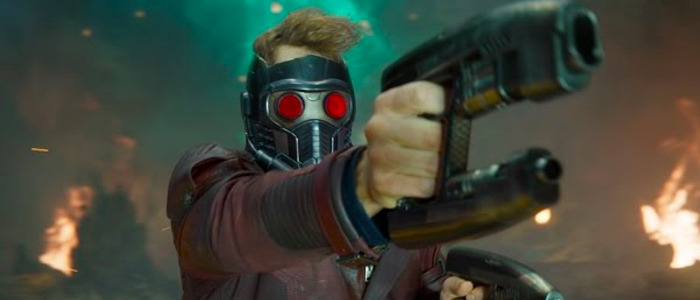 Are you ready to find out what tunes appear on Star-Lord's Zune? James Gunn has turned in a draft of the Guardians of the Galaxy Vol. 3 script, and filming is expected to begin on the sequel in early 2019. Come and get your love.
Avengers: Infinity War is in the past. It's time to look to the future of MCU. And that future includes Guardians of the Galaxy Vol. 3. Marvel Studios President Kevin Feige is making the rounds plugging Ant-Man and the Wasp, and during his press tour, he's talked about the Marvel Cinematic Universe films to come. Speaking with Collider, Feige revealed that Guardians mastermind James Gunn has turned in a draft for the film and that shooting is expected to start early next year:
"[Writer/director] James [Gunn] has delivered a draft and we begin official pre-production on that very, very soon. It'll be shooting early next year. Captain Marvel finishes in about two weeks, Spider-Man starts in about two weeks, and then Guardians 3 will start early next year."
Gunn confirmed as much when he took to Twitter to post the title page for the script.
Of course, any conversation about Guardians of the Galaxy Vol. 3 comes with time-setting questions. As you no doubt know by now, Infinity War kills off all of Guardians (save Rocket and Nebula). Gamora is thrown off a cliff by her adoptive father Thanos, and the rest of the team evaporates into dust after Thanos snaps his fingers during the film's big conclusion.
Infinity War directors the Russo Brothers have said time and time again that the deaths in Infinity War are "permanent." But we know that's impossible because there are already plans for other MCU films, including Guardians Vol. 3. You can't have a sequel if all the characters are really dead. The Russo Brothers have tried to dance around this by claiming that Guardians of the Galaxy Vol. 3 is set before the events of Infinity War. Anthony Russo said:
"Here's the thing, I think it's important to remember anything is possible in the MCU [Marvel Cinematic Universe]. Just because there's a sequel on the books doesn't mean ... people become accustomed to time moving linearly in the MCU. That doesn't necessarily have to be the case. There's a lot of very inventive ways of where the story can go."
Joe Russo added:
"There's four years between Guardians 2 and Infinity War. That's a long time, and a lot of Guardians stories to tell. Again, as Anthony said, don't expect everything to move forward in a linear fashion in the Marvel universe."
Guardians star Chris Pratt attempted to sell this ruse as well, telling MTV that the upcoming film "might take place in the past. It might be a prequel." To his credit, James Gunn isn't here to play your silly prequel games. When asked on Twitter if Vol. 3 is set before or after Infinity War, he gave a pretty straight answer.
Guardians of the Galaxy Vol. 3 will arrive sometime in 2020.