'Ant-Man' Director Peyton Reed Still Wants To Make A 'Fantastic Four' Movie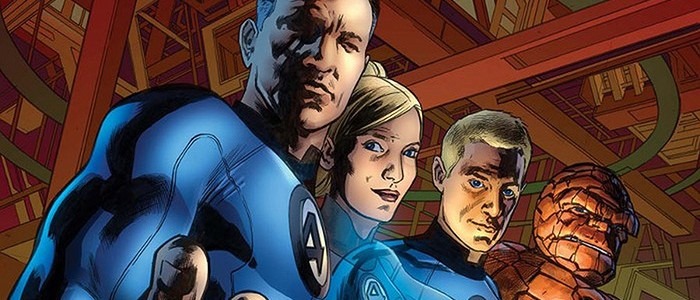 Director Peyton Reed is best known for directing Ant-Man and next month's Ant-Man and the Wasp, but that wasn't the first Marvel property he was attached to direct. In the early 2000s, Reed was hired to make a Fantastic Four movie at Fox, but it ended up falling apart. But in a new interview, he says he's still keeping the dream alive and suggested there was a chance that his script could eventually make its way into the Marvel Cinematic Universe. It all hinges on the Disney/Fox acquisition.
In an interview with CinemaBlend, Reed was asked if his Fantastic Four script could one day be resurrected in the MCU.
"Well, I have been known to mention Fantastic Four in conversations that may or may not have happened in the Marvel hallways. It's all a giant question mark at this point, because no one knows if this merger is going to happen. It was on, it was off, it was on... who knows. I guess I can dream, right? I can have the dream. We'll see. Time will tell!"
Disney currently holds the highest bid for 21st Century Fox's entertainment assets, so it seems likely that the 20th Century Fox movie studio will come under the Disney wing. And while there was initially some doubt as to whether or not the movie rights to the Fantastic Four would be part of the deal, Disney CEO Bob Iger specifically mentioned that property in relation to the Marvel Cinematic Universe in December – and Bob Iger usually gets what he wants.
After a handful of Fantastic Four movies which place somewhere from "bland" to "all-out disaster" on the entertainment scale, Reed's take on Marvel's first family sounds like a breath of fresh air. He told us about how he got the job to direct a version in 2003 before he left due to creative differences, and elsewhere, Reed talked about how his movie would have been set in the 1960s and treated the heroes as if they were rock stars:
"At the beginning of a working day in Manhattan, you're in line at Starbucks and someone runs in, 'Hey, the Fantastic Four is fighting right around the corner!' People run out of Starbucks and the camera flies around the corner to this splash page imagery, where the Human Torch is flying, The Thing is fighting, and it's just chaos. Really, Joss' first Avengers movie had that feel – it's broad daylight. There was a time when you just didn't have the technology, so a lot of those fights took place at night. We thought having it take place in the city during the day would've been a lot of fun. They were kind of modern celebrities. There were a lot of different versions of it, but that was a movie I really wanted to make."
If this acquisition pans out for Disney, maybe Reed will finally get his chance. If it does happen, though, I have to imagine Marvel would want the film to be set in modern day so those characters could interact with everyone else in the MCU. But as Reed said, time will tell.
Ant-Man and the Wasp hits theaters on July 6, 2018.