'Widows' TV Spot: This Is Not Your World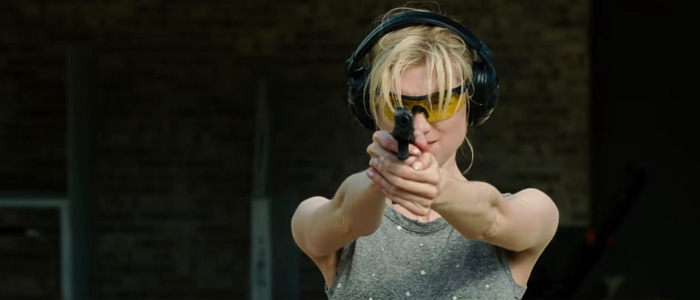 Academy Award winning director Steve McQueen assembled one killer cast for his new heist flick Widows. Viola Davis, Michelle Rodriguez, Elizabeth Debicki, and Cynthia Erivo play a group of women who band together after their husbands are killed during a heist gone wrong. If that concept alone doesn't get you pumped for this film, a new Widows TV spot is here to get you even more excited. November can't get here soon enough.
Widows TV Spot
I know we're knee-deep in the summer movie season, but I'm more excited for the films of fall. Like Steve McQueen's Widows, a super-cool heist drama with a script co-written by Gone Girl author Gillian Flynn. Widows is the story of "four women with nothing in common except a debt left behind by their dead husbands' criminal activities. Set in contemporary Chicago, amid a time of turmoil, tensions build when Veronica, Alice, Linda and Belle take their fate into their own hands and conspire to forge a future on their own terms."
This TV spot is quick and to the point. There are many heist films, but aside from the recent Ocean's 8, very few of those movies focus on an all-female team. That makes Widows stand out from the pack. It helps that McQueen has assembled a phenomenal cast, all of whom will no doubt bring their A-game. Let's take a look at this cast, shall we?
Viola Davis (How to Get Away with Murder), Michelle Rodriguez (The Fast and the Furious), Elizabeth Debicki (Guardians of the Galaxy Vol. 2), Cynthia Erivo (Mr. Selfridge), Colin Farrell (Fantastic Beasts and Where to Find Them, In Bruges), Brian Tyree Henry (Atlanta, Hotel Artemis), Daniel Kaluuya (Get Out, Black Panther), Garret Dillahunt (Deadwood), Carrie Coon (Fargo, Avengers: Infinity War), Jacki Weaver, Jon Bernthal (The Punisher, Baby Driver), Manuel Garcia-Rulfo with Robert Duvall (The Godfather: Part II, Apocalypse Now) and Liam Neeson (Schindler's List, Taken). That is one amazing cast, folks. I'm particularly excited to see Daniel Kaluuy's villainous turn here.
Widows reunites McQueen with 12 Years A Slave producer and financier New Regency. "Steve was interested in doing his own version of a gangster film," said New Regency president and CEO Brad Weston. "It felt fresh to him to combine a contemporary, hard-hitting, very grounded gangster movie with four strong female characters. We loved it because that's who Steve is. He sees things differently." Weston added: "This project gives him the commercial jumping-off point, but then allows him to twist it into a Steve McQueen film."Widows opens November 16, 2018.