'The Equalizer 2' Trailer: Denzel Washington Is The Most Badass Lyft Driver Around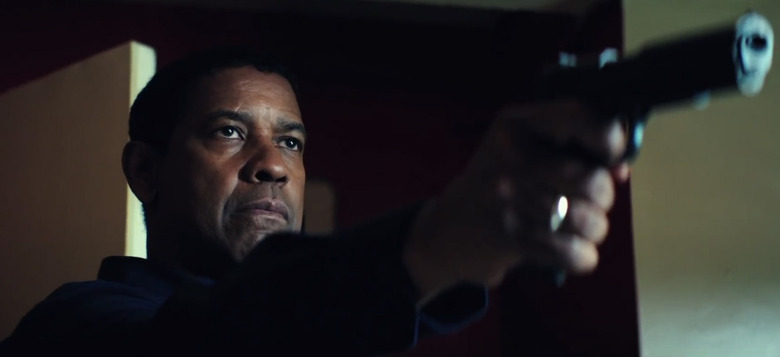 Thanks to Avengers: Infinity War, Deadpool 2, and Incredibles 2 superheroes have dominated the summer box office so far. But when July rolls around, the vigilantes and spies will have their day. Tom Cruise is coming back as Ethan Hunt in Mission: Impossible – Fallout and Denzel Washington will also be back in the franchise that is becoming his own Mission: Impossible series.
The Equalizer 2 brings the return of Danzel Washington as Robert McCall, a man who fights against injustice whenever he sees it. And as a Lyft driver, he comes into contact with some pretty shady characters, as you'll see in the new Equalizer 2 trailer.
Watch The Equalizer 2 Trailer
The trailer has a not so subtle metaphor for Robert McCall cleaning up the city streets of scum when he's scrubbing away graffiti from the side of a building. When a young man tells him that somebody else should be cleaning that up, McCall says, "I guess anybody could do it, but nobody does." And that's pretty much why McCall is The Equalizer.
The first half of this trailer is mostly a rehash of the sequence we saw in the previous tease of the movie, where he delivers some much deserved justice on a group of sleazy businessmen who have just recorded the rape of a young woman before calling her a Lyft home. And that's the kind of shit that Robert McCall doesn't stand for.
Meanwhile, the second half of the trailer lays out the larger story, which involves tacking down those responsible for killing his friend (Melissa Leo), who seems to be one of the only people who knows what McCall does in his spare time. And this is where there's a lot more punching, gunshots and explosions, which makes the sequel feels like it might be on a larger scale than the first film, especially when McCall starts wearing disguises to capture his prey, like he's on his own Impossible Mission Force.
Antoine Fuqua is back to direct The Equalizer 2 in yet another collaboration with Denzel Washington, and hopefully it'll be a thrilling way to start closing out the summer blockbuster season late next month.
Denzel Washington returns to one of his signature roles in the first sequel of his career. Robert McCall serves an unflinching justice for the exploited and oppressed – but how far will he go when that is someone he loves?
The Equalizer 2 arrives in theaters on July 20, 2018.