Jamie Bell Joins Cast Of Elton John Biopic 'Rocketman'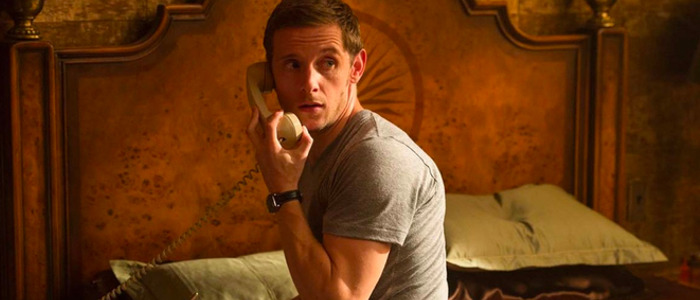 Jamie Bell will join Taron Egerton in Rocketman, a biopic of the life of Elton John. Bell will play Bernie Taupin, the songwriter who collaborated with Elton John on 30 albums.
Variety has the story confirming Bell's involvement in the biopic. In 1967, Bernie Taupin answered an advertisement from Liberty Records seeking new songwriters. Elton John just happened to respond to the same advertisement at the same time. Both men were rejected for the job, but the chance encounter would eventually make music history. John and Taupin ended up collaborating on 30 albums together, with Taupin writing the majority of the lyrics for John's songs.
Bell will play Taupin in Rocketman, Dexter Fletcher's biopic based on John's life. Kingsman actor Taron Egerton plays John, but don't let the actor hear you call the film a "biopic." In a recent interview, Egerton insisted the film is more like a "fantasy musical":
"We are making a movie called Rocketman about Elton John's formative years. Everyone thinks it's a bio-pic. It isn't. It's a fantasy musical so it's actually his songs used to express important beats in his life at emotional moments. He's not the only character that sings. It's going to be fun."
I'm not sure how that's going to turn out, but it's refreshing to hear this won't be your traditional by-the-numbers musician biopic. The script comes from Lee Hall, who has a working history with Jamie Bell – Hall wrote Billy Elliot, which was Bell's acting debut.
Rocketman has been in development for a long long time, kicking around since at least 2011. At one point, Tom Hardy was even attached to play Elton John, and while Egerton is a good actor, it would've been interesting to see Hardy play the famed singer. Alas, it was not to be. Back in 2011, producer Steve Hamilton Shaw played up how untraditional the Elton John biopic would be:
"It will be as unique as Elton's life, told in a non-linear and hyper-visual manner that will transport people through the many intense experiences, some wonderful, some not, that helped define Elton as an artist, musician and man."
The Greatest Showman director Michael Gracey was attached to helm at one point, but Gracey was later replaced with Fletcher. Fletcher is coming off Bohemian Rhapsody, another musical biopic, focused on Freddie Mercury and Queen. Technically speaking, Bryan Singer is the credited director on that film, but Fletcher was brought in to finish things after Singer was fired.
Rocketman will hit theaters in 2019.