Here's How 'Stranger Things' Perfectly Recreates The 1980s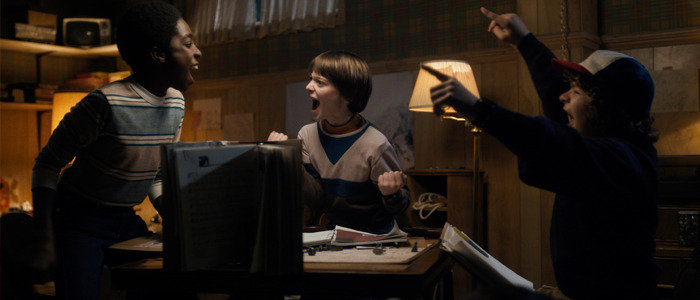 If Netflix's Stranger Things is functioning correctly, you're not consciously noticing all of the show's little details that fill out the backgrounds of its 1980s-set world. But industry veterans are currently putting in their votes for this year's Emmy Awards, which means Netflix actively wants to showcase all of the work that goes into creating Hawkins, Indiana and the spooky world of The Upside Down.
Check out this Stranger Things featurette that reveals how the show's production team built those tunnels in season 2, and how a Sears catalogue is one of the most important assets in bringing the sets to life.
Stranger Things Featurette
I always appreciate behind the scenes videos like this that pull back the curtain and give us the opportunity to see aspects of a production we might not regularly consider. While the '80s aesthetic is such an important part of Stranger Things, it's nice to hear from the people who make all of those specific decisions that make the entire thing come together. Watching the camera float through those environments reminded me a lot of the Ready Player One challenge in Hollywood, another '80s-inspired modern property that went out of its way to recreate that era with total accuracy. It's also interesting to hear the production designer talk about how films like Klute and Silkwood served as inspirations along with the totally obvious influences of people like Steven Spielberg and James Cameron.
Stranger Things is soon expanding into the world of comics, books, and video games, and season 3 is filming now. The third season will feature the return of all the major actors from the first two seasons: David Harbour as Chief Jim Hopper, Winona Ryder as Joyce Byers, Millie Bobby Brown as Eleven, Finn Wolfhard as Mike Wheeler, Gaten Matarazzo as Dustin Henderson, Caleb McLaughlin as Lucas Sinclair, Noah Schnapp as Will Byers, Charlie Heaton as Jonathan Byers, Joe Keery as Steve Harrington, Dacre Montgomery as Billy, and Sadie Sink as Max. (RIP Barb and Bob.)
And just like in season 2, there are some fresh faces coming to Hawkins in season 3. Cary Elwes will play the Mayor, Jake Busey plays a journalist, Maya Thurman-Hawke plays an "alternative girl," and Francesca Reale plays a local lifeguard. Stranger Things 3, which will supposedly head in a new direction, is expected to arrive on Netflix sometime in 2019.