'Timeless' Cancelled At NBC, But Fans Might Get A Movie To Wrap Things Up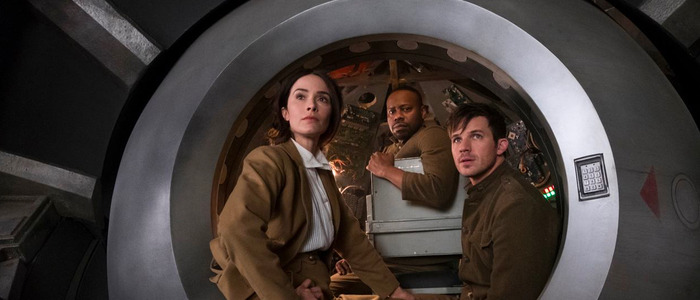 NBC has cancelled Timeless. Again. The network had already cancelled the show once, but fan outcry resulted in a reversal. Sadly, the time has run out once again. The network has pulled the plug for what is likely the final time. But all may not be lost: a Timeless movie could be on the horizon.
The clock has stopped for Timeless. Multiple outlets are reporting the show is done at NBC, which is no doubt frustrating to fans. The outcry from those fans helped land Timeless a second season after NBC cancelled it before. To make matters extra frustrating, season 2 ended on a cliffhanger, which leaves fans without any sort of closure. On top of all that, it's unlikely now that any sort of outcry can rescue the show once again.
Per EW, Timeless season 2 "only averaged 4.2 million viewers and a 1.0 in the demo", which is a jargon-y way of saying "not enough people were watching the show." Some of the cast and crew of the series took to Twitter to voice their disappointment.
Oh boy. This news sucks. Not what we expected and NOT what our fans deserved. BIG GULP!
This mama bear wants to thank our #Timeless fans for all their love and support and for creating the vibrant, compassion community we are all now a part of.
❤️🙏🏽❤️🙏🏽❤️🙏🏽❤️ pic.twitter.com/3tlzmX0EBq

— Sakina Jaffrey (@sakinajaffrey) June 22, 2018
It's true. Thank you for all your support #Timeless fans! It's been an absolute joy playing your Lucy. I sincerely hope we get to do the Timeless movie to wrap up the story and get one more go to wrap up the series in a powerful & elegant way! More soon! xoxo https://t.co/YI59x68dj6

— Abigail Spencer (@abigailspencer) June 22, 2018
One last thing: whether there's a show or not, we're all family now. We're all #clockblockers, baby. https://t.co/W3KKfrnFkj

— Eric Kripke (@therealKripke) June 22, 2018
1. This is a sad day for the writers, actors, crew and especially the viewers of Timeless. We are all extremely proud of what we made and know that it was more than just a show for so many of our fans. It became a passion and a cause for many of them. https://t.co/FPbySi7LXZ

— Shawn Ryan (@ShawnRyanTV) June 22, 2018
However, there might still be some hope left. Deadline reports that NBC and producer Sony Pictures TV have been discussing "a two-hour movie that would resolve the cliffhanger in the recent Season 2 finale and wrap the stories on the show, giving fans closure." There's nothing final yet, but Deadline says that NBC is definitely interested in the idea.
Co-creator Eric Kripke took to Twitter to confirm the 2-hour movie possibility. He also added that Sony has been working to find a new home for the show, but interest just isn't there.
Gutted by this, guys, I know you are too. Behind the scenes, Sony has been trying hard to set it up elsewhere, but no luck so far. I think this 2 hour movie is our best shot. We're ready to make it if @nbc really wants it. Let 'em know how you feel. #clockblockers https://t.co/arNi9iS9GF

— Eric Kripke (@therealKripke) June 22, 2018
Co-creator Shawn Ryan also weighed-in on the 2-hour movie idea.
3. If NBC is sincere in wanting a 2 hour movie to give much needed closure to our amazing @NBCTimeless fans, we are ready to make it. We don't want the journeys of Lucy, Wyatt, Rufus and the others to end yet. #ClockBlockers

— Shawn Ryan (@ShawnRyanTV) June 22, 2018
While fans have been very vocal in their support of the show, Timeless is expensive to produce, and there just wasn't enough viewership for NBC to feasibly keep the series going. Timeless focused on a team of time travelers – Rufus (Malcolm Barrett), a scientist; Wyatt (Matt Lanter), a soldier; and Lucy (Abigail Spencer), a history professor – who used time travel in an attempt to "prevent the destruction of the world as we all know it." Season 2 found the team continuing their quest "to ruin Rittenhouse, a deadly organization with plans to change history and reshape reality – even though Lucy's family has been a part of Rittenhouse for centuries." The most recent season had the team jumping into the years 1692, 1917, 1941, 1981 and more.
Time will tell what happens to Timeless next.