'How It Ends' Trailer: Theo James And Forest Whitaker Take The Worst Road Trip In Netflix's Apocalyptic Action Film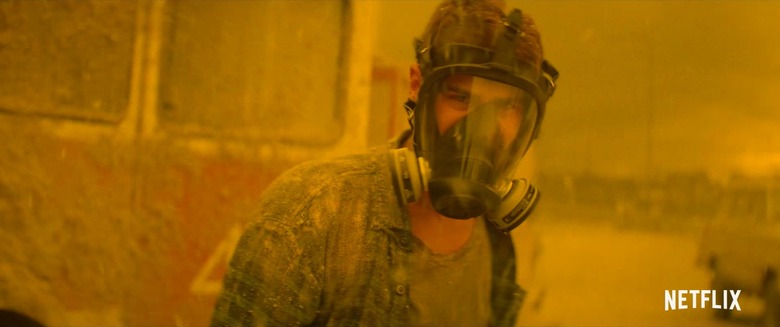 Following the runaway success of Bright, Netflix flexes its sci-fi blockbuster muscle once again with How It Ends. The apocalyptic thriller stars Divergent star Theo James as a man visiting his in-laws on the other side of the country when suddenly a mysterious apocalyptic event befalls the west coast. Left with no answers and no way to communicate, the man and his estranged father-in-law (Forest Whitaker) must race across the country to save his pregnant wife.
How It Ends Trailer
How It Ends seems to be a pretty cookie-cutter apocalypse story: a mysterious event, chaos ensues, people break into murderous factions. But it does have the benefit of Forest Whitaker with a gun. It's always great to see the Oscar winner shed his prestigious image and play the gun-toting badass, especially when he's butting heads with Theo James, the one Divergent star who hasn't become a Golden Globe nominee. The two of them race across the United States in what is likely the worst road trip you can take with an in-law ever — complete with violent clashes with roving gangs, and stand-offs with the military.
This is Netflix's first foray into big-budget apocalyptic spectacle after testing the blockbuster waters with Bright. The Will Smith and Joel Edgerton movie went on to become Netflix's biggest hit (despite bombing with critics), and the streaming service probably foresees How It Ends doing the same. But maybe with better reviews.
Directed by David M. Rosenthal (The Perfect Guy) from a Black List script by Brooks McLaren, How It Ends also stars Kat Graham, Kerry Bishé, Mark O'Brien, Nicole Ari Parker, and Grace Dove.
Here is the official synopsis for How It Ends:
As a mysterious apocalypse causes the spread of misinformation and violence, a man and his estranged father-in-law race across a chaotic and fractured country to save his pregnant wife.
How It Ends premieres on Netflix on July 13, 2018.