Netflix Renews 'Dear White People' For Season 3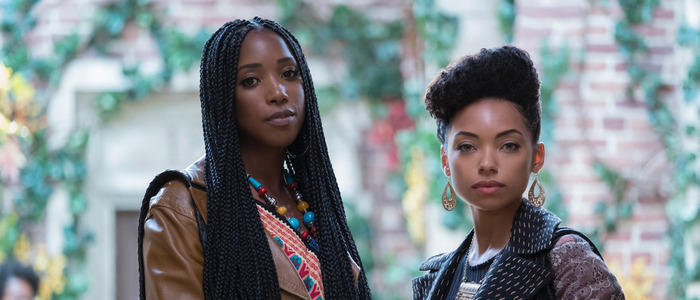 Netflix has made it official: Dear White People will return for season 3 on the streaming service. Justin Simien's dramedy, adapted from his film of the same name, focuses on racial tensions at a predominantly white Ivy League university, and the third season will continue to dig into a mystery that was uncovered in season 2.
After a few weeks of uncertainty, Dear White People season 3 finally got the go-ahead from Netflix. The Dear White People twitter account broke the announcement last night.
An important announcement from the Order of X... pic.twitter.com/JnANKTY5XV

— Dear White People (@DearWhitePeople) June 22, 2018
Creator Justin Simien posted a video announcement as well.
Dear White People Season 3
Dear White People is based on Simien's 2014 film of the same name, which starred Tessa Thompson. Some of the film's actors appear in the show, including Brandon P. Bell, Marque Richardson, and Ashley Blaine Featherson, but for the most part, the series has reimagined the film with a new cast (Logan Browning plays the part originated by Thompson).
In the downtime between seasons 2 and 3, Simien will work on his horror movie Bad Hair, a film which he describes as being in the tradition of films like Rosemary's Baby, The Stepford Wives, Invasion of the Body Snatchers, and Get Out. Simien also says the film will be a tribute to "his mother, aunts and the other black women in his life." Here's how Simien described the film's plot:
"['Bad Hair'] follows a girl from Compton who doesn't have the right look...She doesn't have the right hair, she doesn't have the right face, she doesn't have the right skin color. She wants to be a VJ in the late '80s, early '90s and she makes a bit of a Faustian bargain with this woman who takes over the network where she's at and she ends up with this hair, this weave in her head, that may or may not have a mind of its own."
Dear White People season 3 will likely arrive on Netflix in 2019.
Set against the backdrop of a predominantly white Ivy League university where racial tensions bubble just below the surface, Dear White People is an hilarious send-up of "post-racial" America that weaves together the universal story of finding one's own identity and forging a wholly unique path. The satirical series — which picks up where the acclaimed 2014 film by the same name left off – follows a group of Winchester University's students of color as they navigate a diverse landscape of social injustice, cultural bias, political correctness (or lack thereof) and sometimes misguided activism in the millennial age. Through an absurdist lens, Dear White People utilizes biting irony, self-deprecation and sometimes brutal honesty to hold up a mirror to the issues plaguing society today, all the while leading with laughter.