'Roseanne' Spin-Off 'The Conners' Is Officially Happening At ABC, Without Roseanne Barr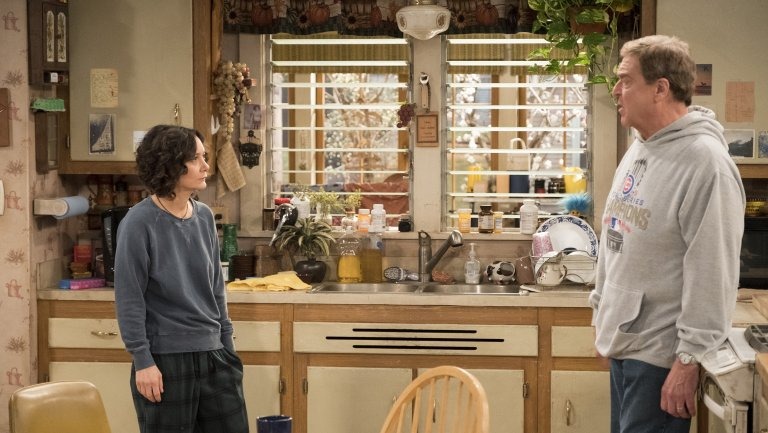 The Roseanne spin-off will be moving forward at ABC — without original star Roseanne Barr. ABC has picked up a spin-off tentatively titled The Conners, after the hit sitcom revival was embroiled in controversy following star and executive producer Barr's racist tweets.
ABC has given a 10-episode order to The Conners, which is set to premiere in fall 2018, taking over the Tuesday 8pm slot vacated by the now-cancelled Roseanne, according to Deadline.
The new spin-off series won't feature Barr in any creative or financial capacity, but The Conners will star the rest of the Roseanne revival cast, including John Goodman, Laurie Metcalf , Sara Gilbert, Lecy Goranson, and Michael Fishman, who will reprise their characters in the Conner family. Deadline reports that those actors, who originally signed two-year deals for the Roseanne revival, have now signed a one-year contract for this spin-off that keeps them at the same salaries they had before.
Roseanne executive producers Tom Werner and Barr said in a statement that they have reached an agreement allowing Werner Entertainment to produce the spin-off for ABC without Barr's involvement. Barr said in the statement:
"I regret the circumstances that have caused me to be removed from Roseanne. I agreed to the settlement in order that 200 jobs of beloved cast and crew could be saved, and I wish the best for everyone involved."
Werner added, "We are grateful to have reached this agreement to keep our team working as we continue to explore stories of the Conner family."
We're still not sure how Barr's character will be written off the show, but ABC describes it as "a sudden turn of events." After this revelation (which could feature Roseanne Conner having a heart attack à la Dan's dream death by heart attack in season 9), the Conners will be forced to face the daily grind of working-class life "as they never have before."
The sitcom about the beloved blue collar family struck a chord when it first premiered in 1988, featuring a fierce matriarch played by Barr and her family dealing with issues of parenthood, dating, unexpected pregnancies, and financial pressures. The show was revived in 2018 and premiered to massive ratings, signaling a shift in TV nostalgia to more working-class themes. But that was all brought to a screeching halt when Barr — who had transformed into a radical right-wing troll in recent years — fired off a racist tweet against former Obama adviser adviser Valerie Jarett. ABC abruptly canceled the show, and talk immediately began of a spin-off to keep the momentum going while distancing itself from Barr.
"The Conners' stories demonstrate that families can always find common ground through conversation, laughter and love. The spinoff will continue to portray contemporary issues that are as relevant today as they were 30 years ago," ABC said in a statement.