Cool Stuff: 'Thor: Ragnarok' Director Taika Waititi Is Now The Coolest Funko POP Figure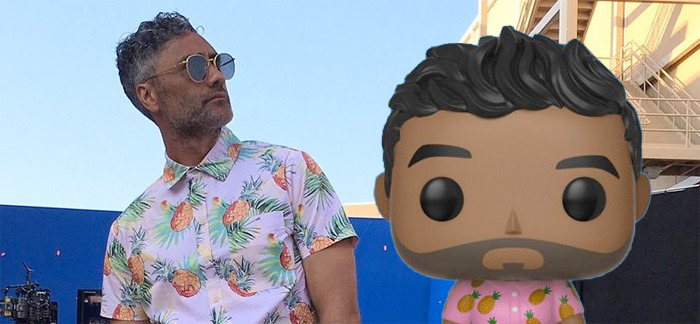 Just yesterday, Aquaman and The Conjuring director James Wan was added to the small but growing line-up of filmmakers who have been lucky enough to be immortalized as Funko POP! vinyl figures. The figure had James Wan's signature pink streaked hair, but now he's no longer the coolest Funko POP on the block.
Thor: Ragnarok director Taika Waititi, who has also brought us the phenomenal films Eagle vs Shark, Boy, What We Do in the Shadows and Hunt for the Wilderpeople, is the latest to get his own Funko POP! as an exclusive at San Diego Comic-Con. And as you can see, he's dress in his signature, godlike pineapple short and shirt set.
Check Out the Taika Waititi Funko POP Figure
As you can see, the figure is the perfect likeness of Taika Waititi. In case you missed the director wearing this fantastic outfit, he tweeted about a similar one last summer while on the backlot of a studio last year, though the one donned by the figure appears to be a little more pink. He's easily one of the most best-dressed directors we've ever seen on any movie set, and he's just the essence of cool.

Taika Waititi joins James Wan, Paul Feig, James Gunn and Guillermo del Toro (all above) as filmmakers who have been turned into Funko POP vinyl figures. The only downside is that this is another San Diego Comic-Con exclusive that is limited to 3,000 pieces. Hopefully it will also be available in the Funko Shop online or at certain retail partners like some of the Funko Comic-Con exclusives usually are. Otherwise we'll be quite bitter.
With these additional filmmakers being added to the Funko POP vinyl figure line-up, we're hoping that there are many more on the way for us to to collect. And hopefully they'll be easier to get our hands on.