Anthony Mackie And Frank Grillo To Star In Joe Lynch's 'Point Blank' Remake For Netflix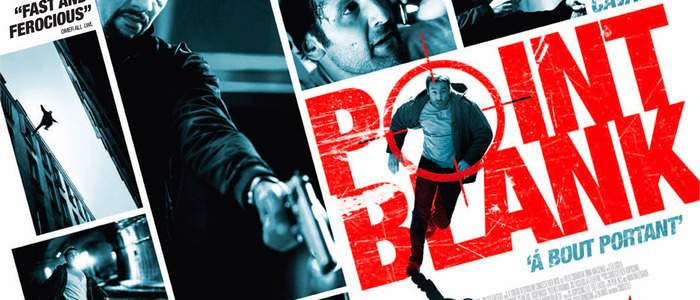 Marvel Cinematic Universe players Anthony Mackie and Frank Grillo are teaming with Everly filmmaker Joe Lynch for Netflix's Point Blank remake. The film will be an American take on Fred Cavayé's French crime drama Point Blank (A bout portant).
This sounds cool: Collider is reporting that Anthony Mackie and Frank Grillo will both star in Point Blank, a new Netflix film from Joe Lynch, the filmmaker behind indie genre pics like Everly and Mayhem. The film is a remake of another film called Point Blank – but that's not saying a whole lot, since there are approximately 10 different films with this title (not to mention the similar-sounding Point Break). The Point Blank in question is a 2010 French film from director Fred Cavayé. Here's the synopsis:
Samuel, a nurse working at a hospital when his pregnant wife is kidnapped before his very eyes. Knocked unconscious, he comes to and discovers that a dangerous criminal named Sartet is responsible, and if he's ever to see his wife again, he must do Sartet's bidding. Samuel quickly finds himself pitted against rival gangsters and trigger-happy police in a deadly race to save the lives of his wife and unborn child.
Here's the original film's trailer.
Point Blank Trailer
Per Collider, the remake follows a similar path, with Mackie playing "a nurse who's forced to spring a wounded murder suspect from the hospital when the man's brother kidnaps his pregnant wife and wants to make a trade. Grillo will play the wounded man who needs Mackie to keep him alive long enough to make the exchange. As you might imagine, dirty cops factor into the equation."
This will be another high-octane Netflix film for Grillo, who also appeared in the fantastic 2017 Netflix film Wheelman. While I'm usually against the idea of remaking foreign films in English so soon after their initial release, the talent involved here is promising enough to pique my interest. The key factor is Lynch, a filmmaker who has helmed some pretty fantastic films that fly under the radar.
If you haven't seen his action film Everly starring Salma Hayek, I urge you to check it out – it's currently streaming on Netflix. The same recommendation goes for his horror-comedy Mayhem, starring Steven Yeun (that film is streaming on Shudder). Adam G. Simon, writer of the PTSD drama Man Down, penned the Point Blank remake scrip. Narc filmmaker Joe Carnahan will produce with Grillo via their War Party productions.