See An Exclusive Sneek Peek Of 'Mission: Impossible – Fallout' At IMAX Showings Of 'Jurassic World: Fallen Kingdom'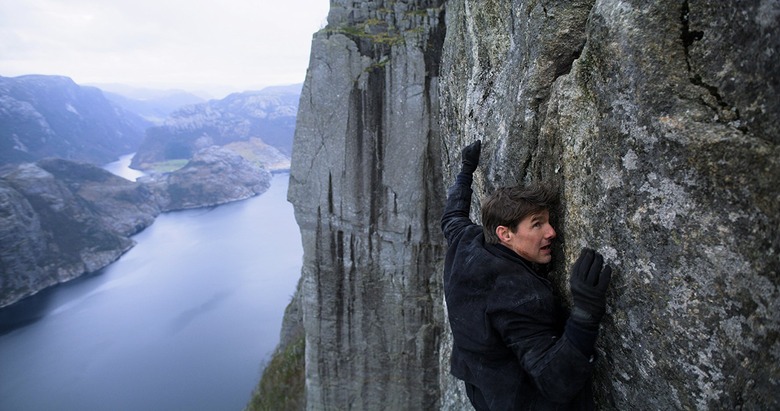 Dinosaurs and secret agents aren't a combo that would usually work, but in IMAX they both look stunning. Audiences seeing Jurassic World: Fallen Kingdom in IMAX this weekend will be treated to a special sneak peek of the one of the most anticipated blockbusters of the season.
IMAX has announced that it will play an exclusive Mission: Impossible – Fallout sneak peek ahead of showings of Jurassic World Fallen Kingdom. But don't expect to see it if you bought tickets for a regular showing — this is in IMAX theaters only.
The exclusive sneak peek of Mission: Impossible – Fallout will begin running in IMAX theaters on June 22, 2018 before IMAX showings of Jurassic World: Fallen Kingdom. IMAX has also released a brief video teasing the exclusive sneak peek, which will be a behind-the-scenes featurette with interviews from star Tom Cruise and filmmaker Christopher McQuarrie.
Mission Impossible Fallout Sneak Peek
Select scenes of Mission: Impossible - Fallout will be specially formatted in IMAX, delivering up to 26% more of the picture than in standard theaters, according to an IMAX press release. Which means you can see Tom Cruise nearly plummet to his death in crisp IMAX technology.
Cruise's death-defying action scenes are astonishing feats of human stuntwork, and are the prime reason that the Mission: Impossible movies stand apart from other CG-heavy blockbusters. The stakes feel real, and every fall and drop is truly gut-churning. And to see those scenes specially configured for IMAX will be a true test of the franchise's potential.
IMAX tickets to Jurassic World: Fallen Kingdom can be found here. Mission: Impossible – Fallout opens in theaters on July 27, 2018.
The best intentions often come back to haunt you.  Mission: Impossible – Fallout finds Ethan Hunt (Tom Cruise) and his IMF team (Alec Baldwin, Simon Pegg, Ving Rhames) along with some familiar allies (Rebecca Ferguson, Michelle Monaghan) in a race against time after a mission gone wrong. Henry Cavill, Angela Bassett, and Vanessa Kirby also join the dynamic cast with filmmaker Christopher McQuarrie returning to the helm.