Stephen Merchant Is The Latest Recruit In Taika Waititi's 'Jojo Rabbit'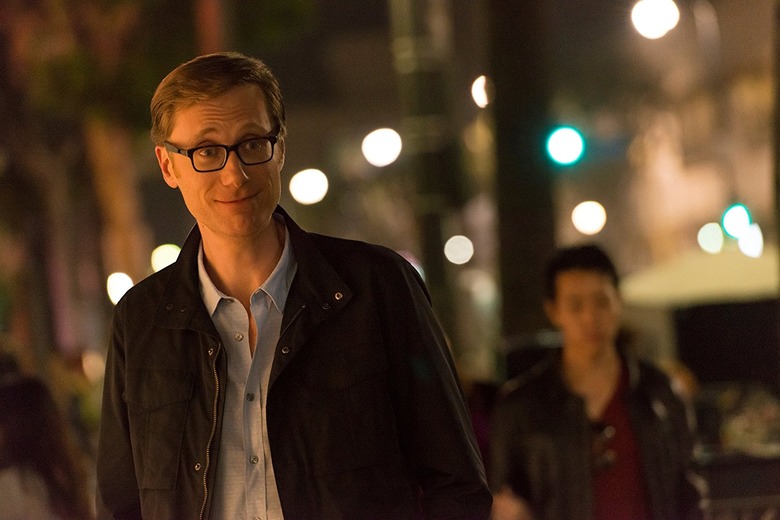 The cast of Taika Waititi's World War II comedy Jojo Rabbit is multiplying like...well, rabbits. British writer/director/actor Stephen Merchant is the latest quirky talent to join the cast. Best known Stateside for his role in last year's Logan and the short-lived HBO series Hello Ladies, Merchant will be playing a Gestapo agent in the Nazi satire.
Merchant, who played the mutant Caliban in James Mangold's acclaimed Logan and who co-wrote the British version of The Office, announced his casting in Waititi's upcoming Nazi comedy on Instagram. "Here's me trying to look German for my part in JoJo Rabbit, new satirical comedy from the wonderful [Taika Waititi]," he wrote, tagging the account for Jojo Rabbit.
Merchant will be playing a Gestapo agent named Captain Deertz. Gestapo was the abbreviation for Geheime Staatspolizei, the official secret police of Nazi Germany and German-occupied Europe. But since this is a satire, Merchant's agent inevitably looks a bit goofier than the real-life agents. It's all in line with Waititi's satirical World War II-set story about a young German boy whose imaginary friend happens to be Adolf Hitler. The film follows "an awkward young German boy (Roman Griffin) raised by a single mother (Scarlett Johansson), and whose only ally is his imaginary friend Hitler (Waititi). His naïve patriotism is tested when he meets a young girl (Thomasin McKenzie) who upends his world views, forcing him to face his biggest fears."
Merchant's role will reportedly be no more than a cameo, according to Deadline. But the actor, who will soon appear in Sony's upcoming The Girl In The Spider's Web, joins a stacked cast including Scarlett Johansson, Oscar-winner Sam Rockwell, Game of Thrones' Alfie Allen, and Waititi himself.
Waititi wrote the film years ago and the screenplay has been floating around Hollywood since it appeared on the 2012 Black List – the annual survey highlighting the hottest un-produced screenplays of the year. But after Waititi's star skyrocketed following the success of his acclaimed indie film Hunt for the Wilderpeople and his big Marvel blockbuster Thor: Ragnarok, Jojo Rabbit received a green light.
Jojo Rabbit is currently in production. No release date has yet been set, but the film will likely hit theaters sometime in 2019.