Now Stream This: 'The Quick And The Dead', 'In Bruges', 'The Untouchables', 'Shaft', 'River Of Grass' And More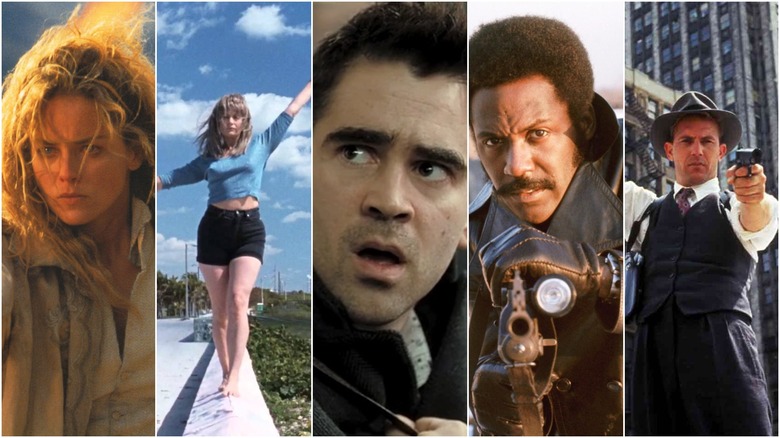 (Welcome to Now Stream This, a column dedicated to the best movies streaming on Netflix, Amazon, Hulu, and every other streaming service out there.) 
Attention streaming movie fans: I've gathered up 10 must-stream movies to make your life easier. You're welcome. In this edition of Now Stream This, you'll find a wild Western from Sam Raimi; the directorial debut of Kelly Reichardt; the acting debut of Edward Norton; not one but two Ralph Fiennes films; an underrated ghost movie; a documentary about one of the worst films ever made, and more!
These are the best movies streaming right now. Let's get streaming.
The Best Movies Streaming Right Now
1. The Quick and the Dead
Now Streaming on Hulu
Release Date: 1995Genre: Weird WesternDirector: Sam RaimiCast: Sharon Stone, Gene Hackman, Russell Crowe, Leonardo DiCaprio, Roberts Blossom, Kevin Conway, Lance Henriksen, Pat Hingle, Gary Sinise
Before Sam Raimi became a blockbuster filmmaker with Spider-Man, he was still an indie weirdo crafting wild, stylish movies that the general public just didn't quite get. One of the best of the bunch is this gonzo 1995 Western in which Raimi stages a series of elaborate shoot-outs in inventive, strange ways. At times it looks like the camera is on top of the bullets as they zig and zag around the dusty streets. And when those bullets hit, it's not a simple flesh wound. Characters are thrown through the air as if they've just been hit with a battering ram. When that doesn't happen, holes the size of grapefruits open up in people's heads. None of it is bound by the laws of physics or reality, and it's great.
In The Quick and the Dead, Sharon Stone plays a loner who rides into an Old West town under the rule of Gene Hackman (playing a sort-of parody of his character from Unforgiven). Hackman's character runs a big shoot-out competition in the streets, and Stone enters with the hope of getting to him to settle some unfinished business. Along the way, a gunslinger-turned-preacher (played by a young, svelte Russell Crowe) gets roped into the mess. A baby-faced Leonardo DiCaprio is also on hand as Hackman's cocky illegitimate son. I long for the days when Sam Raimi still made movies like this – it's silly, it's inventive, it's wildly entertaining. I promise you've never seen a Western like this.
For fans of: The Evil Dead, Unforgiven, Django Unchained, tons of character actors showing up for a few minutes before dying.
Now Streaming on FilmStruck
Release Date: 1995Genre: Indie neo-noir (sort of?)Director: Kelly ReichardtCast: Lisa Bowman, Larry FessendenKelly Reichardt made her directorial debut with this ambling, shambling movie that defies conventional classification. Somewhere in the Florida Everglades, bored housewife Cozy (Lisa Bowman) befriends shaggy handyman Lee Ray (Larry Fessenden). "People used to think this area was uninhabitable," Cozy tells us in the opening narration, "but more and more it's becoming civilized, and they say that within two years there will be a shopping center every fifteen miles." Cozy and Lee Ray end up involved in an accidental shooting that may or may not have killed someone. After the shooting, the duo decide to go on the lam...and yet they can never seem to get out of the Everglades.
Like most Reichardt movies, River of Grass has a pace of its own. It doesn't unfold so much as it drifts, like clouds cutting across a wide-open sky. The film is loaded with pink-hued skies, lit-up swimming pools, run down motels, and crickets singing in the grass. It's a hypnotic, enticing film, and instantly established Reichardt as a filmmaker to pay attention to. Reichardt called the film "a road movie without the road, a love story without the love, and a crime story without the crime," and later added: "My first film...is like a road movie...They aren't able to work their way out of town, actually. It's a theme that started at the beginning, and I look back, and I guess it's just a good setup for different kinds of searching: question-asking, looking for the next place to go, what are you looking for, what are you leaving. All those things are good for grounding it in getting from point A to point B."
For fans of: Certain Women, Badlands, The Florida Project, looking at images of Florida without ever actually going there.
Now Streaming on Netflix
Release Date: 2008Genre: Dark comedyDirector: Martin McDonaghCast: Colin Farrell, Brendan Gleeson, Ralph Fiennes, Clémence Poésy
To hell with Three Billboards Outside Ebbing, Missouri. Martin McDonagh's true masterpiece is the pitch-black 2008 comedy In Bruges. The film finds two hitmen (the expertly paired Colin Farrell and Brendan Gleeson) laying low in Belgium. It should be something like a vacation, but the restless, miserable Farrell can't settle. Farrell and Gleeson bicker and banter, bouncing off each other like pinballs. And then there's Ralph Fiennes, stealing the show as Farrell and Gleeson's foul-mouthed, short-tempered boss who is coming to Bruges to settle a score. In Bruges is loaded with laugh-out-loud funny moments, but buried under it all is an almost astonishing level of melancholy. Once you peel away all the barbed jokes and comic set-pieces, you find a film dealing with depression and suicidal undertones. It's a remarkable experience, and McDonagh balances it all masterfully.
For fans of: Seven Psychopaths, Burn After Reading, The Guard, creative cursing.
Now Streaming on Hulu
Release Date: 1987Genre: Gangster movieDirector: Brian De PalmaCast: Kevin Costner Charles, Martin Smith, Andy García, Robert De Niro, Sean ConneryBrian De Palma's 100% historically inaccurate story about Elliot Ness trying to bring down Al Capone is cinematic dynamite. It sizzles and explodes, bursting with style, drama, and a whole lot of blood. Kevin Costner is the super-square Treasury agent Ness, sworn to uphold the laws of Prohibition on the streets of Chicago. That puts Ness in the crosshairs of cartoon gangster Al Capone (Robert De Niro, hamming it up big time). While other lawmen are easily bought off by Capone, Ness is too pure of heart to go in for that sort of thing. He hooks up with a beat-cop (Sean Connery, in his only Oscar-winning role) and forms a team of good guys who will do what ever it takes to stop Capone's empire.
Did any of this stuff actually happen? No, not really! But it doesn't matter. De Palma, a master behind the camera, stages one spectacular moment after another: bombings, machine gun shootouts, point-of-view stalking sequences, and of course, the famous scene where a baby carriage rolls perilously down the steps of a train station (lifted straight from the Odessa steps sequence in Battleship Potemkin). Everyone is bringing their A-game here, especially Connery, who makes the biggest impression. But the real star of the film is Ennio Morricone's catchy, triumphant musical score. A shot of Ness and his men spilling out onto the Chicago streets as Morricone's music swells is guaranteed to give you goosebumps.
For fans of: Carlito's Way, Dick Tracy, Once Upon A Time In America, Sean Connery trying to make his Scottish accent sound like an Irish accent.
Now Streaming on Netflix
Release Date: 1994Genre: Historical dramaDirector: Robert RedfordCast: John Turturro, Rob Morrow, Ralph Fiennes, David Paymer, Paul ScofieldRobert Redford helms this dry-but-fascinating drama based on the Twenty One quiz show scandals of the 1950s. Audiences couldn't get enough of NBC's popular TV game show, but here's the thing: it was fixed, with contestants being fed answers. After reigning champ John Turturro is essentially fired from the show by being made to lose, NBC recruits Columbia University instructor Charles Van Doren (Ralph Fiennes). Van Doren is whip-smart, and could probably win the show without knowing the answers upfront. But he goes along with the ruse anyway. Unfortunately, an investigator (Rob Morrow) begins looking into the whole affair, threatening to expose it all. In the grand scheme of things (especially looking back now, in the hell-year that is 2018), cheating on a TV game show isn't that big a deal. But it was a major scandal at the time, and Redford's film does a great job of showing us why. Quiz Show's production design is exemplary, effectively transporting audiences back to the '50s. And Fiennes turns in a fine(s) performance as Van Doren. Bonus: look for a cameo from Martin Scorsese, playing a TV executive.For fans of: Hollywoodland Goodnight and Good Luck, Frost/Nixon, Geritol.
Now Streaming on FilmStruck
Release Date: 1971Genre: Blaxploitation/actionDirector: Gordon ParksCast: Richard Roundtree, Moses Gunn
Who's the black private dick that's a sex machine to all the chicks? Shaft. You're damn right. Gordon Parks' immortal blaxploitation classic awaits you on FilmStruck. Richard Roundtree is John Shaft, the coolest motherf***er on the planet. Private eye Shaft is hired to find a gangster's missing daughter. Meanwhile, a gang war is in danger of breaking out. It's cool, it's action packed, it has one of the best damn soundtracks in history, courtesy of Isaac Hayes and Johnny Allen. Parks, who started out as a still photographer, brings a sharp eye to the film, and Urs Furrer's cinematography is like a time capsule into 1971 New York. You can practically smell the city as Shaft strolls through it, leather jacket buttoned up tight. Despite director Parks' talent, he wasn't quite able to stage convincing fight sequences, which make some of the hand-to-hand brawls in Shaft a bit awkward. But ultimately, that doesn't matter. All that matters in a movie like this is mood, and Shaft has that to spare.
For fans of: Dolemite, Hell Up in Harlem, American Gangster, funky basslines.
Now Streaming on Amazon Prime Video
Release Date: 1996Genre: Mystery-thrillerDirector: Gregory HoblitCast: Richard Gere, Laura Linney, John Mahoney, Alfre Woodard, Frances McDormand, Edward NortonEdward Norton burst onto the scene with his debut performance in Primal Fear. It's the type of sit-up-and-take-notice performance, with Norton commanding the screen every chance he gets. The actor plays an altar boy accused of brutally murdering an  Archbishop. There's a mountain of evidence against Norton, which proves tricky to slick lawyer Richard Gere. But as Gere digs further into the case, he finds more and more shocking revelations. To say more, especially if you've never seen the film, would be a crime. Just know that Primal Fear does not play out in the way you expect it to, and the results might knock the wind out of you. As great as Norton is, he's backed up by some fantastic performances from the cast as a whole. Laura Linney is great as the prosecuting attorney who has a past with Gere, and Gere himself gives one of his best performances here as the morally conflicted lawyer.For fans of: The Exorcism of Emily Rose, The Lincoln Lawyer, Anatomy of a Murder, Frances McDormand cameos.
Now Streaming on Shudder
Release Date: 1999Genre: HorrorDirector: David KoeppCast: Kevin Bacon, Kathryn Erbe, Illeana Douglas, Kevin DunnStir of Echoes had the misfortune of hitting theaters only weeks after the blockbuster ghost film The Sixth Sense. You would think that audiences high off the Sixth Sense's thrills might be game for another ghost story, but alas, it wasn't to be. Audiences ignored it, and that's a damn shame, because this tightly-wound film from David Koepp is effective and creepy. Kevin Bacon is a working class guy highly skeptical of the supernatural. That all changes after his sister-in-law (Illeana Douglas) hypnotizes him as part of a party trick. The hypnosis wakens something in Bacon's mind, and he's suddenly able to sense a ghostly presence in his house. Or maybe he's just nuts. Loaded with spooky imagery and a damn believable performance from Bacon, Stir of Echoes has a way of working its way under your skin. It's the type of smart, laid-back ghost film Hollywood doesn't really make anymore.For fans of: The Sixth Sense, The Changeling, The Dead Zone, orange juice.
Now Streaming on Amazon Prime Video
Release Date: 2018Genre: Throwback action filmDirector: Lin OedingCast: Jason Momoa, Garret Dillahunt, Stephen Lang, Jill Wagner, Brendan FletcherBraven! Here's an old-school action flick in which Jason Momoa plays a big man who kills a bunch of bad guys. Pretty cut and dry, right? And that's what makes the film so damn fun. Momoa and his aging father (Stephen Lang) head up to the family's snowed-in cabin only to discover that drug dealers have stashed their illegal substances there. The drug dealers want their stuff back, and they're not prepared to leave any witnesses. What's a man named Joe Braven to do but kill all these people? Braven is the type of action film that used to hit VHS shelves in the '90s, and it's kind of refreshing to see that old school sensibility applied to the 21st century. If you're looking for big, dumb fun, and plenty of scenes of Jason Momoa throwing axes into people's faces, you need to watch Braven immediately.For fans of: Hard Target, Hard to Kill, Cobra, axe throwing.
Now Streaming on Shudder
Release Date: 2009Genre: DocumentaryDirector: Michael StephensonCast: Michael Stephenson, George Hardy, Jason F. Wright, Darren Ewing, Jason Steadman, Claudio Fragasso
Before there was The Room there was Troll 2, a terrible horror sequel to a movie no one even remembered. Troll 2 understandably bombed, but the truly bizarre, inept film soon gained a cult following that lasts to this day. The documentary Best Worst Movie (directed by Michael Stephenson, one of the stars of Troll 2) chronicles both the making of the film and the cult phenomenon that sprung up after its release. It's a funny, touching but also ultimately sad film. Stephenson focuses a big chunk of the film on Troll 2 actor George Hardy. Hardy leans into his cult status, to the point where he starts to think of himself as an actual movie star. But as Hardy shows up at cons and is unrecognized by hordes of people, an awkwardness sets in. In the end, Best Worst Movie is a fascinating look at what makes terrible movies tick, and why some people just can't resist them.
For fans of: Troll 2, The Room, The Disaster Artist, corn on the cob.