Stephen King Series 'Castle Rock' Will Have World Premiere At San Diego Comic-Con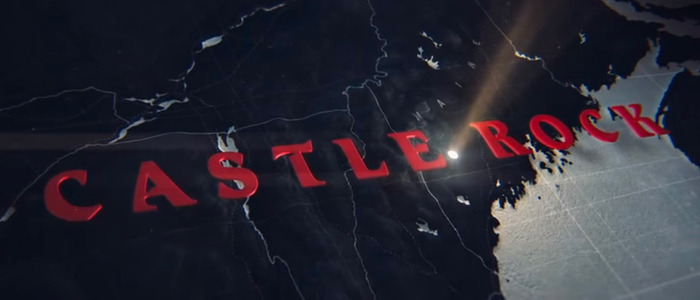 The world of Stephen King is headed to San Diego. Sort of. Castle Rock, Hulu's new horror series set in the world of Stephen King's many, many works, will have its world premiere at Comic-Con in July. In addition to the screening, Hulu is also planning an immersive Castle Rock experience for fans.
Stephen King's fictional town Castle Rock is nestled in the heart of rural Maine, but Hulu will do its best to bring that experience to California when Castle Rock premieres at San Diego Comic-Con in July. Deadline reports the premiere episode of the series will be played for fans at SDCC, with stars Sissy Spacek, Bill Skarsgard, Melanie Lynskey and more expected to attend. Sadly, Stephen King himself won't be there, probably because he's busy writing another 7000-page novel.
Also not attending: executive producer J.J. Abrams. He's busy making a little indie film called Star Wars: Episode IX. That said, Deadline hints that Abrams might put in a video appearance, schedule permitting. It's also unclear if Castle Rock star Andre Holland will be in attendance.
In addition to the screening, Hulu is planning a big immersive experience. There are no specifics of just what this experience will be, but sources indicate "the Dustin Thomason-developed project will have a huge immersive 'experience' for fans and the curious. While the likes of Amazon and AMC's The Walking Dead have had similar venues in years past, the streamer aims to make this one of the biggest and baddest, in the best way...The intention and design will encompass not just Castle Rock itself but swaths of the legacy of the iconic King too."
As a big fan of King's work, I'm very curious about what this could be. Will there be a life-like animatronic Stephen King that tells you spooky stories? Will the rabid dog Cujo bite you and give you rabies? Will the people running the experience bury a dead body in the Micmac burial ground and then wait for it to return to life? I'm guessing none of these things will happen, but I can dream.
Castle Rock is an ensemble horror series set in the town of Castle Rock – a town featured in several of King's novels and short stories, including Needful Things and The Body, the story that became the movie Stand By Me. The show is described as "a psychological-horror series set in the Stephen King multiverse" and "an original story that combines the mythological scale and intimate character storytelling of King's best-loved works, weaving an epic saga of darkness and light, played out on a few square miles of Maine woodland."
In the series, Andre Holland's character returns to the cursed town after years away to investigate a mystery centered in Shawshank Prison – the prison from The Shawshank Redemption. Past secrets and other spooky stuff come to light as the show unfolds. The first three episodes of Castle Rock premiere on Hulu July 25, 2018. SDCC runs from July 19 through 22.