'Comedians In Cars Getting Coffee' Trailer: Dave Chappelle, Zack Galifianakis, Kate McKinnon & More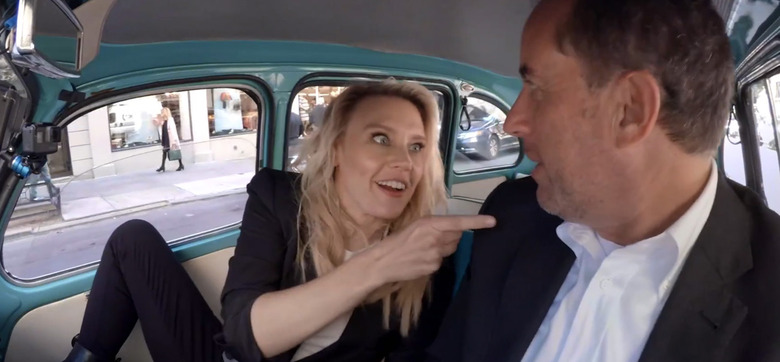 You might remember hearing in January of last year that Netflix had struck a huge deal with Jerry Seinfeld for a couple of new comedy specials and the rights to the entire library of the documentary talk show Comedians in Cars Getting Coffee. That deal also included a plan for new episodes to stream exclusively on Netflix, and they're finally arriving in the Netflix library next month.
A new Comedians in Cars Getting Coffee trailer shows off all the new episodes coming to Netflix in July, and they include Jerry Seinfeld cruising around with Kate McKinnon, Ellen DeGeneres, Hasan Minhaj, Dana Carvey, Neil Brennan, Tracy Morgan, Brian Regan, Alec Baldwin, Zach Galifinakis, John Mulaney, Dave Chappelle and the late comedy legend Jerry Lewis. 
Comedians in Cars Getting Coffee New Season Trailer
It's a little odd that Matthew Broderick is featured in the vintage style opening to the show but isn't one of the guests in this season. There really needs to be an episode where Seinfeld cruises around Chicago with Broderick in the 1961 Ferrari 250 GT California from Ferris Bueller's Day Off. That might be a little on the nose, but who thinks that wouldn't be a fun episode?
Anyway, the line-up of guests for this season looks absolutely fantastic. There's a wide array of very famous comedians, some who have only just started to become bigger players on the comedy scenes, and legends who have been doing this for decades. Each of them will surely have a unique perspective to offer and some great jokes to crack while chatting with Seinfeld.
Comedians in Cars Getting Coffee is a show that I absolutely adore. Not only does it feature candid, insightful interviews with some of the best talent in comedy, but it also shows off some gorgeous automobiles and outstanding hot spots to drop by for breakfast, brunch and lunch. The entire library is available on Netflix right now, and you should really start checking it out if you haven't already.
Otherwise, new episodes of Comedians in Cars Getting Coffee hit Netflix on July 6, 2018.