'Welcome To Marwen' Trailer: Steve Carell Deals With Trauma By Creating A Miniature World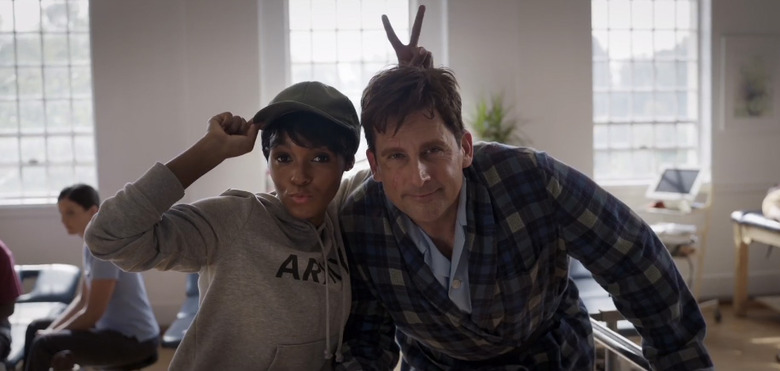 Last year Steve Carell put forth a fantastic performance in the Amazon Studios movie Last Flag Flying. Unfortunately, not enough people saw it to start any real awards buzz, but it's an outstanding drama that's worth your time. Apparently looking for some awards buzz yet again, Steve Carell is back with a much stranger dramatic turn, one that comes with an odd blend of comedy, tragedy and animation from director Robert Zemeckis.
Welcome to Marwen follows Steve Carell as Mark Hogancamp, a man who is attacked by a group of Nazi a**holes (a prospect that is sadly all too real nowadays), leaving him with severe memory loss and some serious post-traumatic stress. In order to cope with the aftermath of this attack. Mark builds a miniature model of a town called Marwen where he lives out wild fantasies that give him the strength to face his struggles in the real world. It's all rather surreal and odd, and you can watch the Welcome to Marwen trailer below to see what we're talking about.
Watch the Welcome to Marwen Trailer
This is such a jarring juxtaposition of comedy and drama, and I'm not really sure how to feel about it all. The drama feels ham-fisted, the comedy is out of place, and that use of the Foo Fighters song "Walk" is one of the most unsubtle and terrible music cues I've seen in a trailer in a long time. I'm not fully prepared to write it off, but it's hard to get excited about a movie that looks like Small Soldiers with PTSD.
The film comes from Robert Zemeckis, and like many trailers for his movies, it seems like it shows a little too much of the story. But at the same time, with the unique presentation of this true story, it seems like he really need to lay those details out to give general audiences an idea of the story he's trying to tell here, especially with an expansive ensemble cast that includes Leslie Mann, Eiza González, Janelle Monáe, Gwendoline Christie, Diane Kruger and Merritt Weaver.
Even more odd is that this movie is based on a documentary called Marwencol, which is a sad profile of the man who inspired this movie. If you watch that doc, you'll be even more perplexed by the comedy on display here. I'm sure it offers some levity to the more serious side of this story, but when placed side-by-side in this trailer, it's quite off-putting.
Check out the trailer for the original doc right here:
Here's the official synopsis for Welcome to Marwen:
Welcome to Marwen tells the miraculous true story of one broken man's fight as he discovers how artistic imagination can restore the human spirit. When a devastating attack shatters Mark Hogancamp (Carell) and wipes away all memories, no one expected recovery. Putting together pieces from his old and new life, Mark meticulously creates a wondrous town where he can heal and be heroic. As he builds an astonishing art installation—a testament to the most powerful women he knows—through his fantasy world, he draws strength to triumph in the real one.
In a bold, wondrous and timely film from this revolutionary pioneer of contemporary cinema, Welcome to Marwen shows that when your only weapon is your imagination...you'll find courage in the most unexpected place.
Welcome to Marwen arrives this fall on November 21, 2018.