Linda Hamilton And Mackenzie Davis Suit Up In 'Terminator 6' Set Photos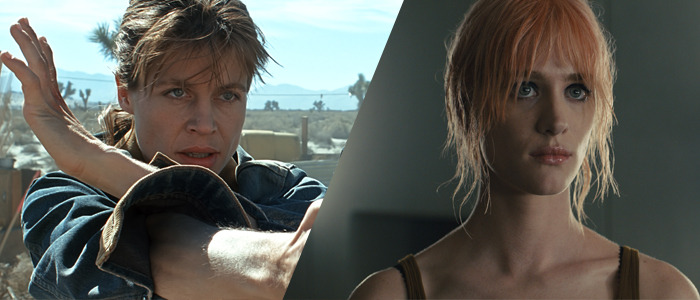 She's back.
Linda Hamilton first portrayed Sarah Connor in James Cameron's 1984 classic The Terminator, and then underwent one of the most dramatic physical transformations in film history for 1991's Terminator 2: Judgment Day, transitioning from a frightened waitress to a hardened, no-nonsense badass. The upcoming Terminator 6 marks her triumphant full return to the character almost 30 years after Terminator 2 was in theaters.
Now some Terminator 6 set photos have surfaced online, and they show Hamilton and co-star Mackenzie Davis (Blade Runner 2049) in costume and ready for action.
The Terminator Fans have the exclusive photos of Hamilton, so you can check them out over there. But the actress looks great suited up in some tactical body armor with grenades attached, and she's rocking a short blonde haircut that reminds me of Robin Wright in House of Cards. Gone is the feathered hair from the first film and the pony-tail from the sequel. Sarah Connor doesn't have time to mess around these days. There are robots to destroy and a Skynet to overthrow.
Hamilton did uncredited voice work in 2009's disastrous Terminator Salvation, but the last time fans actually saw her in-character as Sarah Connor was in Terminator 2 3D: Battle Across Time, a fun stage show at Universal Studios Florida that opened in 1996 and closed last year.
Meanwhile, Just Jared has some photos of Mackenzie Davis that reveal some interesting scars on her character's chest and arms. We don't know much about her character, aside from initial reports that she was cast as "a solder-assassin on a mission," and those reports stated that she was playing a human character. Her scars, many of which seem too geometric to be coincidental, make me wonder if she was experimented on or tortured by Skynet...or maybe we're supposed to think she's human, but later discover she's actually a Terminator spy feeding Skynet info from the opposition. It's still too early to know for sure.
Director Tim Miller (Deadpool) and producer James Cameron are looking for a Mexican actress to play a new character named Dani Ramos, an 18-year-old girl who will serve as a major character in the franchise moving forward. There's no word yet on who might score that role, but we know this sequel will star Hamilton, Davis, Arnold Schwarzenegger, Diego Boneta (Rock of Ages), and Agents of S.H.I.E.L.D. actor Gabriel Luna as a new Terminator.
The untitled Terminator 6 arrives in theaters on November 22, 2019.