Robert Zemeckis To Direct 'The Witches' Remake Produced By Guillermo Del Toro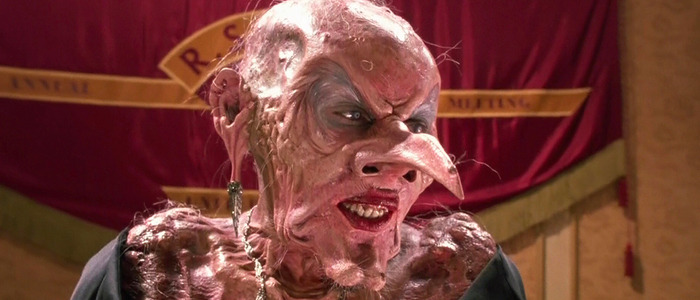 Robert Zemeckis will a helm a remake of The Witches, adapted from the book by Roald Dahl. Dahl's book was previously turned into a film filled with creepy puppets, scary make-up effects, and goo, courtesy of director Nicolas Roeg. Guillermo del Toro and Alfonso Cuaron will produce this new take on the story. 
One of the films from my youth that truly traumatized me was Nicolas Roeg's 1990 Roald Dahl adaptation The Witches. Roeg, working with the Jim Henson Company, conjured up a weird, frequently horrifying tale of monstrous witches who turn children into mice. It was filled with scary make-up effects, weird puppets, and moments of disgusting, gooey horror. And oh yeah, it was marketed towards children.
Now, Robert Zemeckis will follow in Roeg's footsteps with his own The Witches remake. Variety confirms Zemeckis will direct, while Alfonso Cuaron and Guillermo del Toro will produce. Cuaron and del Toro have been attached to the project for a while now – both filmmakers were once attached to helm The Witches, with plans to make the film in stop-motion.
Now, Zemeckis will direct a live-action take on the material. Dahl's 1973 book follows a young boy who encounters a coven of real witches. Roeg's film starred Anjelica Huston as the Grand High Witch, but it's worth noting that Roeg's film was a loose adaptation of Dahl's book. Zemeckis' take on the story is apparently going to be more true to the source material. Here's the book's synopsis.
This is not a fairy tale. This is about real witches.
Grandmamma loves to tell about witches. Real witches are the most dangerous of all living creatures on earth. There's nothing they hate so much as children, and they work all kinds of terrifying spells to get rid of them. Her grandson listens closely to Grandmamma's stories—but nothing can prepare him for the day he comes face-to-face with The Grand High Witch herself!
I'm not sure how I feel about this. I enjoy the original The Witches, but I don't think it's some sacred film that can never, ever be remade. The wild card here is Zemeckis. Zemeckis has a long list of wonderful films, but he's been a bit off his game in recent years. On top of that, he's a filmmaker who never met a digital effect he didn't like, which indicates his take on the material will probably trade the creepy practical effects of the 1990 film for slick, phony CGI. If del Toro or Cuaron were still attached to helm, I might be a bit more excited about this. For now, I'll remain cautiously optimistic.
Zemeckis' next film, Welcome to Marwen, opens November 21, 2018.