'Jurassic World: Fallen Kingdom' Box Office Tracking Indicates Another Dino-Sized Hit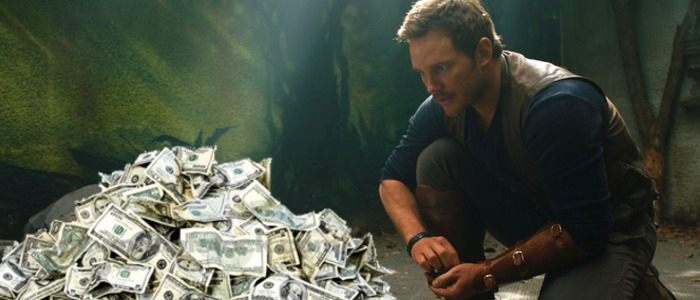 The Jurassic franchise will continue to roar at the box office when Jurassic World: Fallen Kingdom opens in the U.S. this weekend. The blockbuster sequel is tracking for a strong opening weekend...although not quite as strong as monster-hit Jurassic World.
When Jurassic World opened in 2015, it surprised many by raking in a whopping $208.8 million during its opening weekend, with another $316 million overseas. Now, Jurassic World: Fallen Kingdom hopes for its own T-Rex-sized box office haul. Early Fallen Kingdom box office tracking is good...but not quite as good as Jurassic World. Variety reports the film is headed towards "$130 million to $140 million when it opens in approximately 4,450 locations. " However, it's worth noting that Fallen Kingdom has already opened overseas, and has earned "$372 million from 51 international markets, including China."
Reviews for Fallen Kingdom have been mixed, with some praising director J.A. Bayona for bringing his own style to the franchise, while others proclaim this to be yet another hollow sequel. Jurassic World didn't have the best reviews either, of course, but still managed to become the fifth biggest box office hit of all time. I doubt Fallen Kingdom is going to enter the top 10, but it'll still make enough bucks for Amblin and Universal to plow ahead and spare no expense on Jurassic World 3.
Here's an opening weekend box office breakdown of all the Jurassic films, courtesy of Box Office Mojo.
Jurassic Park (1993) – $47,026,828 on 2,404 screens
The Lost World: Jurassic Park (1997) – $72,132,785 on 3,281 screens
Jurassic Park III (2001) – $50,771,645 on 3,434 screens
Jurassic World (2015) – $208,806,270 on 4,274 screens
Fallen Kingdom will be fairly safe at the box office. The only other stiff competition it has is Disney's Incredibles 2, which continues to be a huge hit. Next week's biggest movie is Sicario: Day of the Soldado, which might do well, but won't come anywhere near Fallen Kingdom's box office intake. Fallen Kingdom should be generally safe until July, when Marvel's Ant-Man and the Wasp arrives. Or maybe audiences will all flock to see Gotti a few dozen times instead.Jurassic World: Fallen Kingdom, starring Chris Pratt, Bryce Dallas Howard, Rafe Spall, Justice Smith, Daniella Pineda, James Cromwell, Toby Jones, Ted Levine, B. D. Wong and Jeff Goldblum, opens on June 22, 2018.
Three years after the destruction of the Jurassic World theme park, Owen Grady and Claire Dearing return to the island of Isla Nublar to save the remaining dinosaurs from a volcano that's about to erupt. They soon encounter terrifying new breeds of gigantic dinosaurs, while uncovering a conspiracy t

hat threatens the entire planet.