'Sicario' Director Denis Villeneuve Loves 'Sicario: Day Of The Soldado'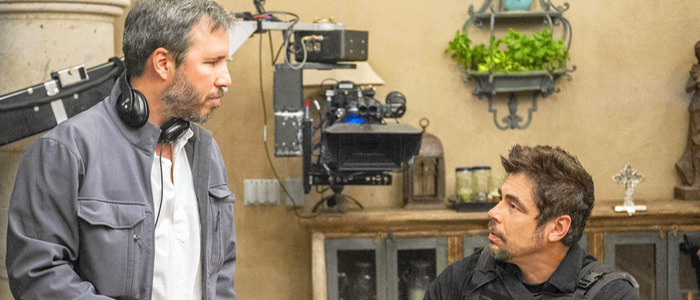 Sicario filmmaker Denis Villeneuve didn't return to helm the sequel Sicario: Day of the Soldado, but he still has plenty to say about the film. In fact, Villeneuve loves the sequel, and offered up a rave review for Stefano Sollima's upcoming film.
Denis Villeneuve's direction of his 2015 film Siciario elevated what could've been a standard action-thriller into an incredibly tense character piece full of surprises. So when I learned Villeneuve wasn't returning for Sicario: Day of the Soldado, I was a bit apprehensive. But early word indicates Sicario 2 is surprisingly good, and even Villeneuve himself has offered words of praise for the film.
Villeneuve praised both the movie and new director Stefano Sollima, telling producers he thought Day of the Soldado was "a knockout" and that "Sollima did a masterful follow up to Sicario. I was blown away!" IndieWire asked Villeneuve for more thoughts on the film, and the Blade Runner 2049 directer obliged, saying:
"Having seen his film, I'm proud to say that Stefano did an impressive, powerful, masterful follow-up...It's a hell of a good movie!"
Sicario: Day of the Soldado has original Sicario stars Benicio del Toro and Josh Brolin returning for another dread-filled saga centered around a drug war. Like Villeneuve, Sicario star Emily Blunt did not return for the follow-up, but producers have indicated they want Blunt to return for a potential third film. Sicario and Sicario: Day of the Soldado screenwriter Taylor Sheridan already has an idea for a third Sicario film, as producer Trent Luckinbill confirmed:
"We were so thrilled that people responded to the first one and we felt justified in making a second because we loved it....[at the end of Soldado], even more than the first one, we kind of leave off a little tease...this was always in the back of Taylor's mind, and we loved it, and we thought, 'God, it would be great if we could get there.' I think we'd like to do that now. I certainly feel like the second one lived up to the expectations."
Star Benicio del Toro weighed in about working with both Villeneuve and Sollima on both films. "I had a good time working with both of them, it was just, like, much respect for both of them," the actor told Entertainment Weekly. "I think that Stefano had to come in a little bit like, you know, where Josh and myself, we have played these characters before, so he had to deal a little bit with that, and I think he did a really good job of allowing both Josh and myself to put ourselves on the table about the characters and how they would react in situations and all that stuff, so it was very inclusive that way." Del Toro added:
"I think Stefano, under the circumstances, is coming in and being the director of these movies and the style and success... I think Sicario is cinematically, in terms of cinematically, he did a really good job and in terms of bringing that quality — the standards of the quality — up. I don't know if there's one single thing that I would say. ... I think they are both very talented and I think Stefano showed that he was definitely one of those really up-and-coming directors."
Villeneuve has both the crime thriller The Son and the sci-fi epic Dune in development, but Sicario producer Ed McDonnell previously revealed there were discussions about Villeneuve possibly returning to helm the third film, if and when it happens. Sicario: Day of the Soldado opens June 29, 2018.
FBI agent Matt Graver calls on mysterious operative Alejandro Gillick when Mexican drug cartels start to smuggle terrorists across the U.S. border. The war escalates even further when Alejandro kidnaps a top kingpin's daughter to deliberately increase the tensions. When the young girl is seen as col

lateral damage, the two men will determine her fate as they question everything that they are fighting for.