More 'Star Trek' Shows Coming To CBS, Including The Possible Return Of Patrick Stewart's Captain Picard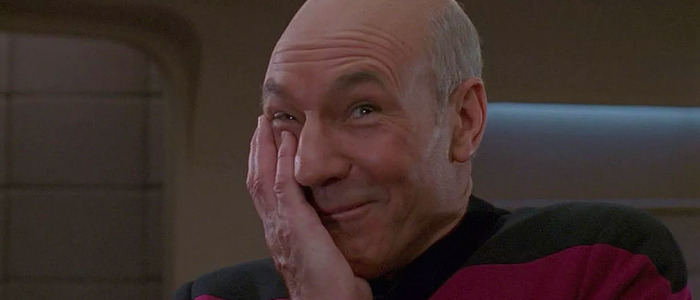 Get ready to boldly go beyond Star Trek: Discovery. New showrunner Alex Kurtzman just inked a deal with CBS Television to develop even more Star Trek shows, including a series that might bring back Patrick Stewart as Captain Jean-Luc Picard.
If Star Trek: Discovery isn't enough to satisfy your Trek needs, you're in luck: CBS is going all-in on more. The network just signed a deal with current Discovery showrunner Alex Kurtzman to develop even more Star Trek material, including "new series, mini-series and other content opportunities, including animation."
And that's not all: The Hollywood Reporter reveals that one of these new Trek titles could see the return of Patrick Stewart's Jean-Luc Picard. Stewart has previously teased a possible appearance on Star Trek: Discovery, but THR says "Kurtzman and Akiva Goldsman, who left Discovery after season one, are attached to [a] Stewart-led reboot." THR also adds that an official deal isn't in place yet, so this is all still in the early phases of development.
Stewart played Jean-Luc Picard for seven seasons on Star Trek: The Next Generation. He also played the character in four films: Star Trek Generations (1994), Star Trek: First Contact (1996), Star Trek: Insurrection (1998), and Star Trek: Nemesis (2002). There's no word on just how Kurtzman and Goldsman might be planning to bring Picard back, but if this pans out, it will no doubt make fans very happy.
Variety has some details on what the other in-development Star Trek shows might be: a series "set [at] Starfleet Academy from creators Stephanie Savage and Josh Schwartz"; a limited series based around the Wrath of Khan storyline; an animated series with plot details still under wraps; and another live-action limited series.
"There is a very short list of writer/producer/directors that every film and television studio wants to be associated with, and Alex and his Secret Hideout team are always at the top," said CBS Television Studios president David Stapf. "His talent, taste and ability to shepherd a successful project is unparalleled. Alex has done remarkable work for our Studio, dating back seven years to the launch of Hawaii Five-0, and we are thrilled that he, Heather and their team will be partnering with us for a long time to come."
Kurtzman added:
"The full team at CBS Studios have been our foremost collaborators and champions, treating each project with integrity, supporting the creative visions and working breathlessly to make each episode of every show the best it can be. CBS has also allowed us the great pleasure of reintroducing the world of Star Trek [to] audiences new and old, and we are very excited to keep working alongside them to expand that world."
Discovery executive producer Kurtzman recently took over showrunning duties after Gretchen Berg and Aaron Harberts were fired, following complaints from staff writers: "Multiple writers are said to have been uncomfortable working on the series and had threatened to file a complaint with human resources or quit the series altogether before informing Kurtzman of the issues surrounding Berg and Harberts. After hearing rumors of HR complaints, Harberts is said to have threatened the staff to keep concerns with the production an internal matter."
Kurtzman has a history with the Trek franchise, having written and produced J.J. Abrams' Star Trek and Star Trek Into Darkness. He also briefly ran Universal's Dark Universe, but we probably shouldn't hold that against him.