LOL: Tiffany Haddish Challenges 'Black Panther', Connects With Kylo Ren At MTV Movie & TV Awards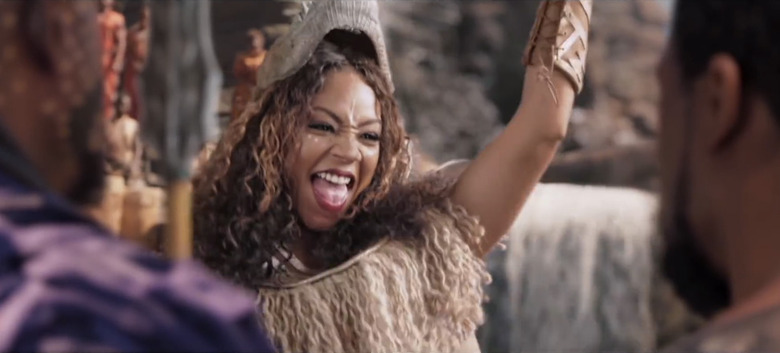 Remember when the MTV Movie Awards used to be a big enough deal that they would air over the weekend and actually stir up excitement? Well, those days are long gone, because last night, which was a Monday, brought the 2018 MTV Movie & TV Awards to air. They came and went without much pomp and circumstance, but at the very least Black Panther came away with awards for Best Movie, Best Hero for Chadwick Boseman and Best Villain for Michael B. Jordan.
But before all that, 2018 MTV Movie & TV Awards host Tiffany Haddish challenged Black Panther himself for the role of master of ceremonies at the pop culture awards celebration. On top of that, she also made quite the connection with Kylo Ren that she couldn't help but get a little worked up about.
Tiffany Haddish Challenges Black Panther
It's a tradition that whoever hosts the MTV Movie & TV Awards ends up inserted into some of the most popular movies or TV shows from the preceding year. They're always pretty well done, and this one is no exception as Tiffany Haddish challenges T'Challa, complete with the help of her Girls Trip co-stars Queen Latifah and Jada Pinkett Smith. Plus, Get Out co-star Lil Rel Howery gets in on the action as one of the tribe leaders and whoever is doing that Forest Whittaker voices is doing a pretty damn great job.
Tiffany Haddish Connects with Kylo Ren
It looks like Rey and Kylo Ren aren't the only ones being connected by the Force. Tiffany Haddish is more than happy to get some ForceTime with the master of the Knights of Ren. And she's especially taken aback when she sees him shirtless with those high-waist pants. But she's not exactly thrilled when he tries to stop her from using her, ahem, weapon of choice.
Or if you'd rather just watch Black Panther win Best Movie, you can do that too: