'Stranger Things' Comic Will Tell The Story Of What Happened To Will In The Upside Down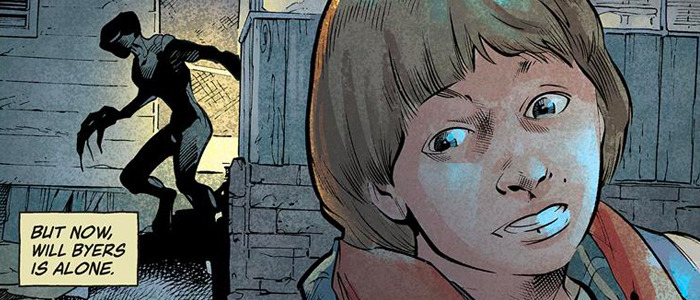 As Netflix's wildly popular supernatural sci-fi series Stranger Things heads into its third season, some newly-announced supplementary material will fill in gaps from the show's earliest events. We already heard about how some Stranger Things books will be coming to shelves this fall, and now a new report says Netflix has teamed with Dark Horse to create a Stranger Things comic. Take a look at some preview pages from the first series below, which shows what happened to Will Byers (Noah Schnapp) while he was trapped in the Upside Down.
Entertainment Weekly reports that Netflix and Dark Horse will publish a Stranger Things comic book starting this September. Their deal covers a "multi-year publishing line" that will provide fans with "an opportunity to explore the mysterious world of Hawkins, Indiana." These stories seem to be taking a page from the Star Wars playbook: they'll tell stories that fill in gaps that were left open during the show.
First up is a four-issue series devoted to what happened to Will Byers after he left that fateful game of Dungeons & Dragons and disappeared into the Upside Down back at the start of the first season. Here's the official description:
"Stranger Things #1 follows Will Byers as he enters a dimension of decay and destruction where he must use his wits and resolve to dodge the pursuit of the Demogorgon and escape the Upside Down."
Will didn't reemerge until the season one finale, and though we saw flashes of him evading the wrath of the Demogorgon, there's still plenty left unsaid about what exactly happened while his family and friends searched for him. Jody Houser wrote the new series, which features illustrations by Stefano Martino, inks by Keith Champagne, colors by Lauren Affe, and letters by Nate Piekos. Take a look at a couple of preview pages:
"Dark Horse will publish a line of comics and young adult graphic novels expanding the world of Hawkins and its many inhabitants," reads the official press release. So it sounds like more stories will be coming soon. This may be controversial, but it must be said now before things get too far along: Dark Horse, please don't give Barb her own comic. Her character is not that interesting!
Stranger Things 3 will see the return of all the principal actors from the first two seasons: David Harbour as Chief Jim Hopper, Winona Ryder as Joyce Byers, Millie Bobby Brown as Eleven, Finn Wolfhard as Mike Wheeler, Gaten Matarazzo as Dustin Henderson, Caleb McLaughlin as Lucas Sinclair, Noah Schnapp as Will Byers, Charlie Heaton as Jonathan Byers, Joe Keery as Steve Harrington, Dacre Montgomery as Billy, and Sadie Sink as Max. There are some new faces coming to Hawkins, as well: Cary Elwes will play the Mayor, Jake Busey plays a journalist, Maya Thurman-Hawke plays an "alternative girl," and Francesca Reale plays a local lifeguard.Stranger Things 3 is filming now and is expected to arrive on Netflix sometime in 2019. The first issue of the Stranger Things comic hits shelves on September 26, 2018. Visit DarkHorse.com to see the cover art for issue #1.