'Nobody's Fool' Trailer: Tiffany Haddish Is Out Of Jail And On The Prowl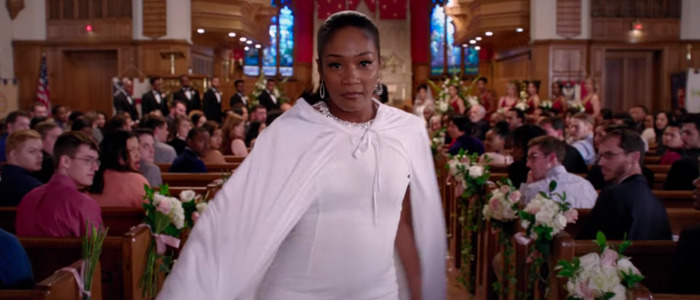 Tiffany Haddish is a busy woman. Following her breakout role in last year's mega-hit comedy Girls Trip, the hilarious actress/comedian parlayed her newfound fame into a leading role on the TBS series The Last O.G., and she's also appearing in a trio of movies this year, including a new one for Paramount called Nobody's Fool. Check out the first trailer below, which sees Haddish as a former jailbird who learns a shocking secret about her high-powered sister's relationship.
Nobody's Fool Trailer
There's definitely an art to tailoring a comedy around a specific performer, especially one who's become a full-blown sensation in the public eye. It can feel effortless when done correctly, or it can go horribly wrong if the filmmakers strike the wrong balance. Look at Melissa McCarthy's filmography for perfect examples of things going right (Spy) and wrong (Tammy). It looks like Tyler Perry got it right this time.
Oh, did I not mention that earlier? Yeah, this is a Tyler Perry movie. Perry wrote and directed this film, but I would never have guessed that based on this trailer. It looks like he's put aside his moralizing, religious-adjacent schtick here and crafted a vehicle for Haddish and her co-stars to do their thing. (That bit at the end with Whoopi Goldberg and the window made me chuckle.)
It's wild how someone can go from relative unknown to household name practically overnight. Following her scene-stealing performance in Girls Trip, Haddish has a supporting role in the NBA-players-in-old-man-makeup movie Uncle Drew this year, and she'll also be sharing the screen with Kevin Hart in a more traditional comedy called Night School. Haddish performed stand-up comedy around the country for years before she hit the big time, so I'm glad to see her capitalizing on her newfound success and finally cashing in after struggling for so long.
Here's the official synopsis for Nobody's Fool, which stars Haddish, Tika Sumpter, Omari Hardwick, Mehcad Brooks, Amber Riley, and Whoopi Goldberg:
Trying to get back on her feet, wild child Tanya (Tiffany Haddish) looks to her buttoned-up, by the book sister Danica (Tika Sumpter) to help her get back on track. As these polar opposites collide — with hilarious and sometimes disastrous results — Tanya discovers that Danica's picture-perfect life — including her mysterious boyfriend — may not be what it seems.
Nobody's Fool arrives in theaters on November 2, 2018.