Before Seeing 'Incredibles 2', You Should Know About This Warning For Light-Sensitive Viewers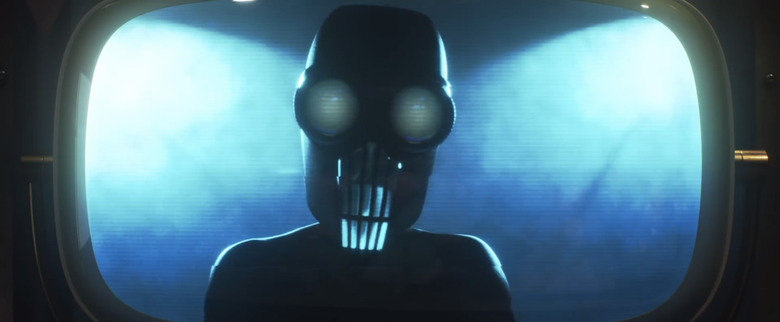 Incredibles 2 hit theaters this weekend, and in case you didn't hear, it was quite the hit at the box office. The film broke the box office record for the biggest opening weekend in the history of animation with an estimated $180.2 million (the more precise figures will come this morning). But it didn't entirely go off without a hitch, because some viewers has an unpleasant experience when they went to see the anticipated Pixar sequel.
In Incredibles 2, the villain known as The Screenslaver uses hypnotic, flashing videos to put people into a trance and do their villainous bidding. This means that several times throughout Incredibles 2 there are repeated light flashes and strobes that have the potential in incite problems for viewers dealing with epilepsy, migraines, vision impairments, seizure conditions, vertigo (specifically flicker vertigo), autism, ADHD, and PTSD. One viewer took notice of this issue and garnered up enough support online so that Disney asked all theaters to deliver an Incredibles 2 warning about this potential issue that might arise for some viewers.
Here's the Twittter thread that went viral and led to Disney's addition of a warning at box office counters:
So, the villain's weapon of choice in the movie is bright white lights that are at a rapidly flashing/strobing frequency, with the intent to disorient people. One of these scenes lasts over 90 seconds with continuous strobe light, other scenes last anywhere from 5-30 seconds

— Veronica Lewis 👩🏼‍🦯 (@veron4ica) June 15, 2018
I am not calling for a boycott of Incredibles 2, or to change the movie. It is very well done, and the strobe lights are an important point in the plot. I just wish Disney/Pixar and theaters alike would issue a warning that the movie contains several scenes with strobe lights

— Veronica Lewis 👩🏼‍🦯 (@veron4ica) June 15, 2018
Parents have the right to make an informed decision about something that could impact their child's safety and people with chronic illness have the right to learn about potential triggers/make steps to avoid them. Incredibles 2 needs a safety warning at the ticket window for this

— Veronica Lewis 👩🏼‍🦯 (@veron4ica) June 15, 2018
Veronica Lewis also created a post on her blog about this problem. According to Variety, there weren't any official reports of issues arising this weekend, but it's better safe than sorry for Disney to let their viewers know about this problem in advance. As someone with a family member who has migraines triggered by exposure to strobe lights, this is something that plenty of viewers will appreciate knowing about before they go into the theater.
The result of this quick and courteous campaign, and you might have already encountered them:
Thank you to everyone for retweeting this, writing articles, and signal boosting my message! My goal of having signs at the ticket counter was reached so that people can be warned about the flashing lights in Incredibles 2. pic.twitter.com/JljozWlojd

— Veronica Lewis 👩🏼‍🦯 (@veron4ica) June 17, 2018
So if you're going to see Incredibles 2 this weekend, just beware of this issue. Hopefully it won't keep you from enjoying this fantastic sequel to The Incredibles. In case you haven't heard, it's pretty damn great, so you should head out to see it as soon as possible.
Helen (voice of Holly Hunter) is called on to lead a campaign to bring Supers back, while Bob (voice of Craig T. Nelson) navigates the day-to-day heroics of "normal" life at home with Violet (voice of Sarah Vowell), Dash (voice of Huck Milner) and baby Jack-Jack—whose superpowers are about to be discovered. Their mission is derailed, however, when a new villain emerges with a brilliant and dangerous plot that threatens everything. But the Parrs don't shy away from a challenge, especially with Frozone (voice of Samuel L. Jackson) by their side. That's what makes this family so Incredible.
Incredibles 2 is playing in theaters everywhere now.