Chris Hardwick Loses Talk Show On AMC After Abuse Allegations, Won't Be Moderating Comic-Con Panels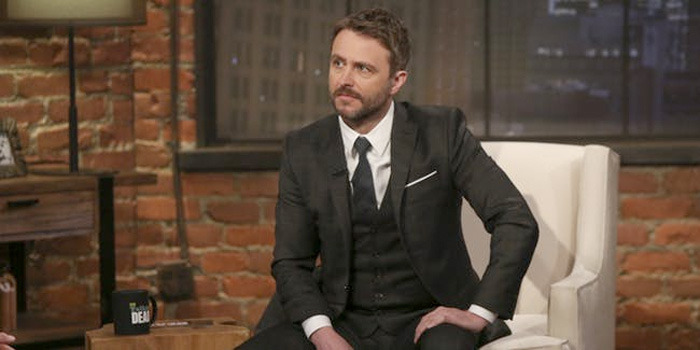 Update: The Wrap reports that Chris Hardwick will not moderate the Warner Bros. panel at Comic-Con this year. He previously moderated the studio's Hall H presentation in 2017 and 2014.
Just before the weekend, comedian and television personality Chris Hardwick had some serious allegations tossed his way when ex-girlfriend Chloe Dykstra penned a detailed and disturbing essay laying out his pattern of emotional and sexual abuse throughout their three-year relationship. For his part, Chris Hardwick denied these allegations in an official statement, but that hasn't stopped AMC from taking action while they "assess the situation."
AMC has pulled the second season of Talking with Chris Hardwick, which is hosted and produced by the comedian, from their schedule. Furthermore, the network says the comedian and host is stepping down from moderating panels for both AMC and BBC America at San Diego Comic-Con next month.
Immediately following the revelation of these allegations, the entertainment and geek news site Nerdist founded by Chris Hardwick removed any reference to his name and association with the outlet. Hardwick was believed to still be CEO of Nerdist, but according to owner Legendary Digital Networks, he had no operational involvement for two years leading up to his contract expiration in December 2017.
It remains to be seen if AMC will be taking any further action by ending their professional relationship with Chris Hardwick, who also hosts The Walking Dead after show Talking Dead. This is a decision that will likely come after AMC assesses the situation, though we're not entirely sure what that means they'll be looking into.
Meanwhile, NBC is in the midst of considering what to do about the renewal of their game show The Wall, which Hardwick hosts and produces for the network. It sounds like NBC will also be similarly assessing the situation as the network released a statemtn saying, "We are continuing to assess the situation and will take appropriate action based on the outcome." Production on The Wall doesn't resume until September, so they have time to sort things out.
Otherwise, other parts of the entertainment world are reacting in similar fashion as The New York Times reports Kaaboo, a comedy and music festival happening in September in Del Mar, California, has pulled Chris Hardwick from their line-up. More than likely, other comedy venues and festivals will follow suit.
There has been a lot of controversy surrounding this particular accusation. For our part, we believe victims when they come forward with allegations like this, and we denounce any form of discrimination, harassment or abuse. We'll continue to update you as the fallout from this situation becomes more clear.
Note: An earlier version of this story erroneously said Talking Dead was being pulled from AMC's schedule, but it was the comedian's talk show Talking with Chris Hardwick that was pulled from the channel.. While that might be the case in the future, this hasn't been announced The story has been corrected with the accurate information.