'Aquaman' Villain Has A Lot In Common With Thanos & Killmonger, Trailer Release Date & New Logo Revealed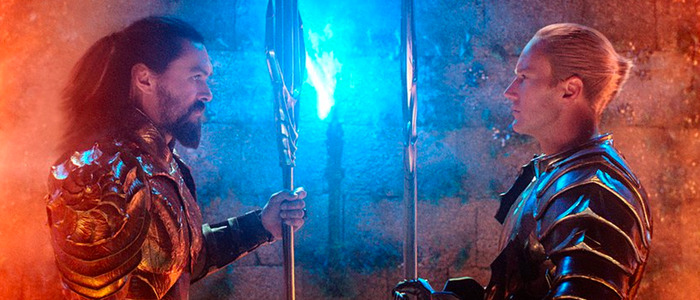 Details on Aquaman have been hidden away in the murky depths for months, but now some new info is bubbling to the surface. A new interview with co-star Patrick Wilson has shed some light on Aquaman villain King Orm – a character who has a lot in common with recent Marvel villains Thanos and Killmonger.
A recent theme in superhero films (a theme that isn't new, by the way) is that of the villain who thinks he or she is doing the right thing. While it's occasionally fun to watch a villain who is just evil for the sake of evil, more complex antagonists often toe the line between right and wrong. You might even find yourself sort of, kind of agreeing with some of their points. Marvel has made good use of this in recent films like Black Panther, where some of the motivations of villain Killmonger (Michael B. Jordan) seemed somewhat reasonable. Ditto Avengers: Infinity War, where Josh Brolin's Thanos wasn't exactly sympathetic but was empathetic. You could see where he was coming from, even if you didn't agree with his whole "mass genocide" idea.
It looks like DC is going to follow this trend as well with Aquaman. In James Wan's upcoming superhero flick, Patrick Wilson plays villain King Orm, who just happens to be Aquaman's half-brother. Based on what Wilson tells Entertainment Weekly, Orm is cut from the same cloth as Thanos (without the big-ass gauntlet and purple hue). As Wilson says:
"He's kind of an eco-warrior...He's got a very clear gripe with the surface world, which has been polluting his oceans for centuries. And that's something for me — I'm sure for you too — that's very easy to understand. If somebody was just constantly polluting our air and ruining how we lived ..."
Orm's plan includes declaring war on the surface world, which the half-human Aquaman doesn't take kindly to. I'm not going to lie: we surface-dwellers sort of have it coming, so please feel free to attack us, King Orm.
Wan and Wilson have worked together several times already – the actor appeared in the director's Insidious and Conjuring films. When it came time to cast Aquaman's villain, Wan turned to Wilson because he knew the actor could create a likable villain. Wan tells EW:
"Patrick is such a talented actor and a chameleon as well, he can disappear into any role...Orm's got a soft spot for his brother who lives on the surface world and if anything just wants him to rule Atlantis and the world together, but his brother doesn't see it that way. A lot of the clashes they have stem from their different upbringings. So I didn't want to cast a typical villain actor."
While DC has a pretty excellent rogues gallery, the villains in the DCEU films have been a bit lackluster. Even Wonder Woman, the best DCEU film to date, had a bit of a boring bad guy. I'm very curious to see if Aquaman succeeds where the other films have failed. Wilson is very good at what he does, so I'm curious to see him take on this role.
Meanwhile, if you're wondering when the heck we might see the Aquaman trailer, we now have an answer: next month. James Wan took to Twitter to announce that the trailer would debut at SDCC in July:
Comic-Con will be insane!! This is the new glyph/logo. Freshly smuggled out of Atlantis! (stolen off King Orm's belt buckle) pic.twitter.com/NLmIXUaXEM

— James Wan (@creepypuppet) June 15, 2018
Rumors suggested we might see the trailer much sooner – as in, next week. But apparently, those rumors were very, very wrong.
Aquaman opens December 21, 2018.