How The 'Avengers: Infinity War' Writers Would Fix The DC Universe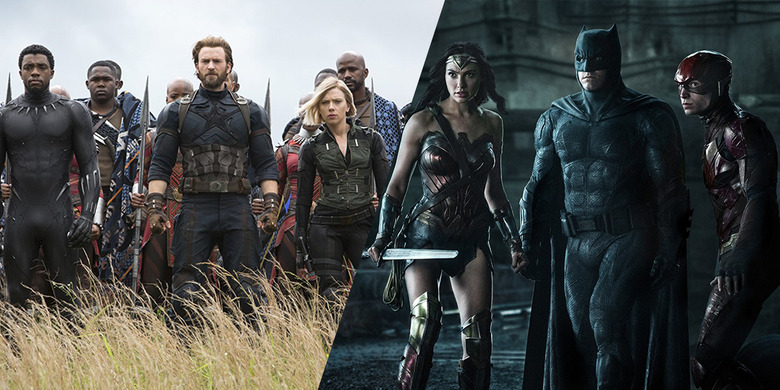 How do you fix a problem like the DC universe? Warner Bros.' slate of comic book movies based off the iconic DC Comics characters, unofficially dubbed the DC Extended Universe, has stumbled ever since it first came out the gate with Man of Steel in 2013. Other than Wonder Woman, none of the DCEU have over a 60% on Rotten Tomatoes, and the highly publicized team-up of the world's finest heroes in Justice League ended up disappointing at the box office.
Well, Avengers: Infinity War screenwriters Christopher Markus and Stephen McFeely have an idea on how fix it.
Markus and McFeely dropped by Kevin Smith's Fat Man on Batman podcast Thursday night to talk everything Infinity War. But after fielding several Marvel and Avengers 4-related questions, the conversation ended up turning to the DCEU. Smith is a famous DC Comics fan, often sharing his thoughts on the state of the DC cinematic universe and even considering taking on a DC movie himself.
But even Smith, who has penned titles for both Marvel and DC Comics, admits that there's something that needs to be fixed with the DCEU. He asked Markus and McFeely how they would go about fixing the DCEU, and Markus told Smith (Via ComicBook.com):
"I mean, I would look at what Marvel did out of necessity, in that they didn't have their A-list characters," Markus said. "They didn't have Spider-Man. They didn't have the X-Men. They went down a line and found a, I mean, he's pretty f*cking famous, he's Iron Man, but he wasn't there, and they made a really good movie out of it... I might put Batman and Superman and everybody else, I mean Wonder Woman is doing fine, aside for a second. Go through the vast world and go, 'That guy' or 'That girl,' and go, 'Let's just make a really good movie and not a universe and see what happens.' There's a lot of spaghetti being thrown at the wall."
"Spaghetti being thrown at the wall" feels like the perfect term to describe Warner Bros.'s current strategy with its DCEU. The multiple Joker movies in development, the possibility of a "darker" DC movie sublabel, and the confusing status of the solo movies for The Flash and The Batman all feel like ideas randomly suggested in a brainstorm session — and the spaghetti is starting to slip down the wall.
McFeely had a similar take. "My familiarity with the DC universe is not that great but I can just say, strategically, 'Make one,'" McFeely said. "To quote Justice League, 'Save one person.'"
One solo movie at a time seems to be the advice from Markus and McFeely. It's a formula that worked for Marvel, which released five solo superhero movies before bringing them all together in 2012's The Avengers. It took five more years for Marvel to work its way up to the breakneck speed of three movies a year that it's at now. Slow and steady wins the race, Markus and McFeely seem to be saying — as well as investment in some obscure characters no one knows. Maybe we are too familiar with Superman and Batman to accept any old big screen iteration of these icons. And we're definitely too familiar with the Joker at this point. By some miracle, maybe Warner Bros. could take this advice to heart (read: probably not) and just give us that Booster Gold movie we've all been craving.