Trailer Round-Up: 'Supercon', 'Dog Days', 'Pick Of The Litter', 'The Children Act,' And More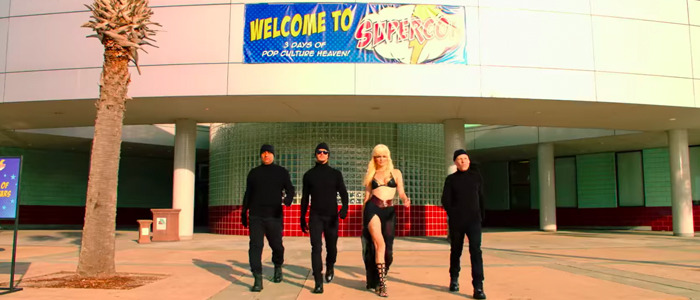 I'm not sure if you've noticed, but a borderline-excessive amount of trailers were released over the past couple of weeks. In fact, there have been so many that we had to create this article simply to contain them all. So keep reading to catch up with the latest trailers for films like Supercon, Dog Days, Pick of the Litter, Gauguin: Voyage to Tahiti, and The Children Act. Plus, I might even throw a TV trailer in the mix for good measure. (Spoiler alert: I will.)
Supercon
We'll start off with a double shot of Supercon with a green band and a red band trailer for a new film about a group of idiots who plan to rob a pop culture convention. That's a decent premise, and the fact that John Malkovich somehow agreed to be in this is intriguing, but frankly, this thing looks like a disaster. My personal limit for "nutshots in a trailer" is two, and I lost count at how many there were here.
Supercon already played in limited theaters and is currently available on DVD right now.
Hereditary
Speaking of things that are available to watch right now, A24 has put out a new trailer for Hereditary that highlights Toni Collette's amazing performance. This video centers on a particularly intense dinner conversation that hasn't been the focus of other trailers, but anything that convinces more people to check out this film in a theater is fine by me. (Don't forget to check out our interview with Collette right here.)
Hereditary is in theaters right now.
Dog Days
Do you love dogs? Are you tired of watching the same old romantic comedies? Do we have a movie for you! A ton of fun actors show up in Dog Days, including Lauren Lapkus, Adam Pally, Nina Dobrev, Finn Wolfhard, Rob Corddry, Thomas Lennon, Tig Notaro, and Vanessa Hudgens. Plus, it's directed by the hilarious Ken Marino. It looks cheesy as hell, but maybe it's worth it for the pups?
Dog Days hits theaters on August 10, 2018.
Pick of the Litter
If you like dogs but aren't in the mood for schmaltz, there's Pick of the Litter, a documentary about training dogs to become guide dogs for blind people. I've admittedly never given any thought as to how that process works, but this trailer makes it look fascinating. Here's the description:
PICK OF THE LITTER follows a litter of puppies from the moment they're born and begin their quest to become guide dogs for the blind. Cameras follow these pups through an intense two-year odyssey as they train to become dogs whose ultimate responsibility is to protect their blind partners from harm. Along the way, these remarkable animals rely on a community of dedicated individuals who train them to do amazing, life-changing things in the service of their human. The stakes are high and not every dog can make the cut. Only the best of the best. The pick of the litter.
Pick of the Litter arrives in theaters on August 31, 2018.
Gauguin: Voyage to Tahiti
French actor Vincent Cassel has one of the most unique faces in entertainment. His sharp features make him seem like a man from another era, and he's leaning into that in this film about the titular artist who travels across the world to find inspiration. Here's the description:
French artist Paul Gauguin (1848-1903) was an innovator of modern art, known for experimenting with bold color and distorted proportions, along with his contemporaries Vincent van Gogh and Paul Cézanne. By 1891, Gauguin was already well-known in artistic circles, but had grown tired of the civilized world and its political and moral conventions. Leaving his wife and children behind, he ventures alone to Tahiti, consumed with a yearning for new inspiration. Pushing deep into the Tahitian jungle, Gauguin meets Tehura, his muse, who will consume his mind and inspire his most iconic works of art.
Gauguin: Voyage to Tahiti hits theaters on July 11, 2018.
The Children Act
It's been too long since I've seen a great Emma Thompson performance, but it seems like I don't have to look any further than The Children Act, a fascinating true story of a judge with a rocky marriage who had to rule about the legality of a blood transfusion to a young Jehovah's Witness. The boy (Dunkirk's Fionn Whitehead) refuses the transfusion because of his religious beliefs, making it a more complicated case than usual for the judge. Stanley Tucci and Ben Chaplin co-star.
The Children Act arrives in theaters on September 14, 2018.
Bobcat Goldthwait's Misfits & Monsters
"What if Cape Fear and Roger Rabbit had a baby?" And with that, Bobcat Goldthwait just sold me on Misfits & Monsters, his new series that stars people like Seth Green, Melissa Joan Hart, David Koechner, Michael Ian Black, Samm Levine, Karan Soni, and more. That story above is just one of the many we'll see in this show, which is an anthology series that tells a different twisted story each week. This could be a fun thing to throw on amid all the prestige TV that's on these days.
Bobcat Goldthwait's Misfits & Monsters premieres on TruTV on July 11, 2018.