Don Cheadle Is Coming Back To Showtime With The Wall Street Comedy 'Black Monday'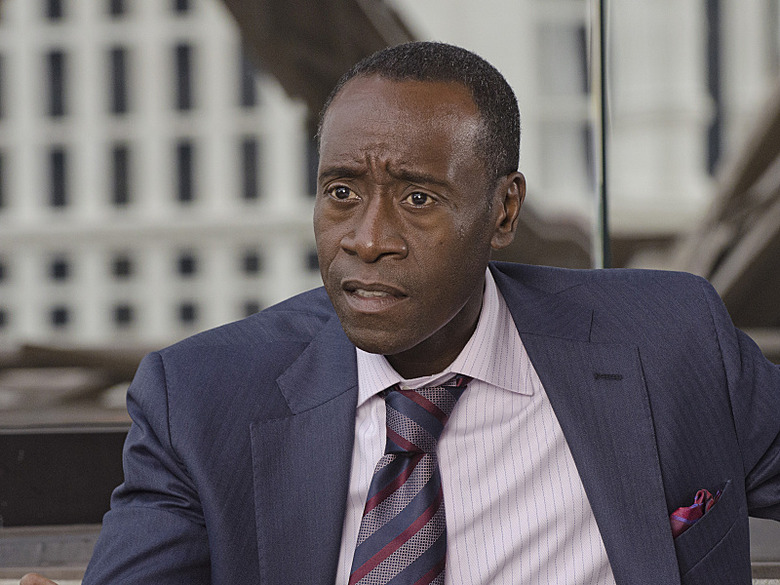 Two years after parting ways with Showtime with the end of House of Lies, Don Cheadle is returning to the network with a new comedy series. The new series is called Black Monday, and has been ordered by Showtime for a 2019 series premiere.
Cheadle will be starring in the Wall Street comedy Black Monday alongside Girls' Andrew Rannells and Girls Trip's Regina Hall.
Black Monday will be a 10-episode series set in '80s Wall Street, announced David Nevins, the president and CEO of Showtime Networks Inc. The title refers to October 19, 1987, the day of one of the worst stock market crashes in the history of Wall Street. The causes of the crash are still unknown to this day, but the series will endeavor to explain what happened.
Nevin explained:
"Black Monday is a scathing comic commentary on the excess of the '80s. Don Cheadle, Andrew Rannells and Regina Hall lead a hilarious cast that takes on blue-blooded Wall Street as the Bad News Bears of Wall Street trading firms."
Along the lines of the Oscar-nominated The Big Short, Black Monday will take a darkly comic approach to a serious financial disaster, following a group of outsiders who take on the old-boys club of Wall Streeet and accidentally end up crashing the world's largest financial system. The show includes all of that and more — includng a "Lamborghini limousine, Don Henley's birthday party and the glass ceiling."
Created by David Caspe (Happy Endings) and Jordan Cahan (My Best Friend's Girl), Black Monday will also star Paul Scheer, Yassir Lester, Michael James Scott, and Eugene Cordero, with recurring guest star Casey Wilson, and guest stars Ken Marino and Kurt Braunohler. The star-studded names don't end there —  Preacher and Superbad duo Seth Rogen and Evan Goldberg directed the pilot and will also serve as executive producers.
Black Monday is set to premiere in 2019.