'Brain On Fire' Trailer: Chloe Grace Moretz Is Losing Her Mind And Doctors Don't Know Why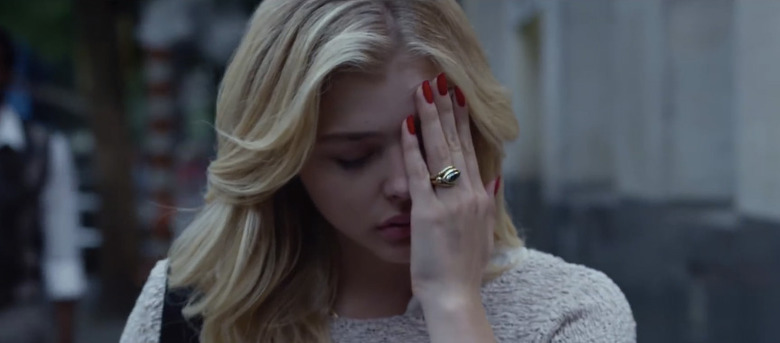 Chloe Grace Moretz has grown up quite a bit since her early acting days. Her early years found her taking on supporting child star roles in the likes of The Amityville Horror and Big Momma's House 2. Thankfully, she graduated to better adolescent roles in (500) Days of Summer, Kick-Ass and Hugo. Now she's talking on full-fledged adult roles, and her (nearly) latest turn is coming to Netflix.Brain on Fire adapts the true story of a New York Post journalist named Susannah Cahalan, who suddenly found herself hearing voices, having seizures, and losing parts of her memory. Doctors had no idea what was causing these catastrophic developments in her mind and body. It sounds like a medical nightmare.
Watch the Brain on Fire Trailer
This trailer doesn't exactly make this a must-see, which would explain why this movie has been sitting on a shelf since premiering at the Toronto International Film Festival in 2016. It feels more like a feature length episode of House M.D. rather than a festival movie worth seeking out on Netflix. It sounds like reviews from the film's debut corroborate those initial impressions.
David Rooney at The Hollywood Reporter wrote in his review:
"If you're going to ask an audience to accompany your lead character down a disorienting spiral of memory lapses, paranoid episodes, manic mood swings, hallucinations and debilitating fatigue, it's generally a good idea to make them care about her first. Irish filmmaker Gerard Barrett somehow neglects that step in the wearisome Brain on Fire. That means we watch Chloe Grace Moretz's epic meltdown from a bored distance, until the drama remembers its lost calling as a disease-of-the-week movie. At that point, we receive the abrupt news of a cure with an indifferent shrug."
Meanwhile, Peter Debruge at Variety was even more harsh by writing, "It's the sort of role for which the Razzies were invented, and what little audience it finds will almost certainly be heckling as they watch Moretz implode." Yep, that sounds like exactly the kind of movie destine to be lost among Netflix'x ever-expanding library of movies that you'll never watch.
Tyler Perry, Jenny Slate, Richard Armitage, and Carrie-Anne Moss also star in the film from director Gerard Barrett. For those who haven't lost interest, here's the official synopsis:
One morning, 24-year-old Susannah Cahalan woke up in a hospital bed. She couldn't speak. She couldn't move. And she had no idea how she got there. Based on Cahalan's bestselling memoir Brain on Fire: My Month of Madness, director Gerard Barrett's adaptation captures the horrifying experience of one woman's unexplained descent into madness and the medical miracle it took to pull her back from the brink. Fresh out of journalism school and ready to embark on adult life, Susannah (Chloë Grace Moretz) already seemed to have it all: her dream job at the New York Post, supportive co-workers (Tyler Perry and Jenny Slate), a devoted boyfriend (Thomas Mann), and a loving family (Richard Armitage and Carrie-Anne Moss). Then, almost overnight, this ingénue went from one of the Post's most reliable reporters to an unstable, paranoid shell of her former self. Plagued by auditory hallucinations and memory loss, doctors dismissed her condition with a diagnosis of partying too hard and stress. But as her condition worsened, the stakes grew higher, and the race to find an answer became a matter of life and death.
Brain on Fire hits Netflix on June 22, 2018.