'Stranger Things': How Millie Bobby Brown Invented Eleven's Gestures, And Noah Schnapp's Intense Possession Scene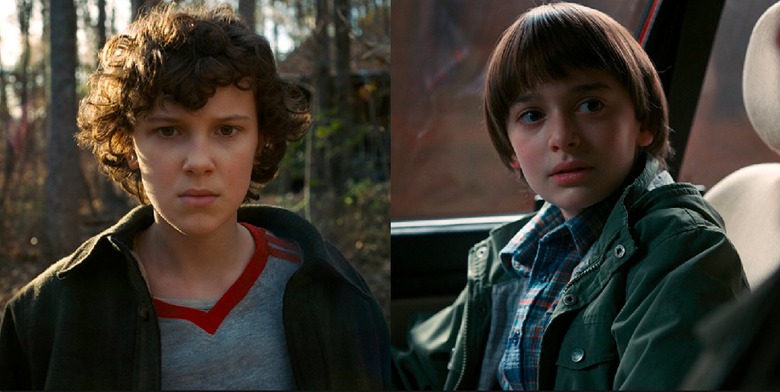 Well, now we know who Netflix is pushing for in this year's Emmys. The streaming service released two new Stranger Things featurettes on YouTube for its biggest genre hit, spotlighting the acting talents of two young cast members: Millie Bobby Brown and Noah Schnapp.
Season 2 really was a showcase for these two talented kids, and Netflix seemingly wants to get them some awards attention. And while these featurettes are a clear piece of campaigning, it is pretty cool to see how Brown invented Eleven's iconic gestures, or how Schnapp pulled off that harrowing possession scene.
Stranger Things Emmys Spotlight: Millie Bobby Brown
When Stranger Things first exploded onto the scene in 2016, much of its crossover success could probably be attributed to Brown's vulnerable, weird, and almost alien performance as Eleven. But, she reveals, she barely knew what she was doing.
Showrunners Ross and Matt Duffer reveal in the featurette that Eleven was basically a blank slate of a character. But it was Brown who filled in the gaps. The Duffer brothers praised Brown's instinctive performance, saying:
"What she does with her eyes, what she does with her face, what she does with a certain glance – all of Eleven's power stuff, which now is kind of famous, the hands, the turn of the neck – this was all designed by an 11-year-old girl."
Yes, all her little cricks of the neck and her strange, steely gazes were all an invention of Brown. It's an astonishing acting feat by a preteen girl, and something that could likely carry over to another Emmy nomination for Brown this year.
Stranger Things Emmys Spotlight: Noah Schnapp
But let's talk about the real MVP of Stranger Things season 2: Noah Schnapp. The poor guy was MIA for the majority of season 1, but thankfully, the Duffer brothers gave him the spotlight with a distressing possession subplot for the sophomore season. And he pulled it off with aplomb.
Schnapp's Stranger Things co-stars, including David Harbour, Gaten Matarazzo, Finn Wolfhard, and Sadie Sink, joined in on praising the 13-year-old actor's explosive performance this season. And while it is a little strange to hear Schnapp himself talk about the performance when his voice has clearly dropped a few octaves, it is pretty revelatory. Schnapp revealed his process:
"I had to always decide — am I playing Will in the scene, or is it the monster, or is it a little bit of both?," he explains. "I had to show two different sides of one person in a scene. They were definitely very opposites, because Will is this sweet little innocent sort of kid, and the monster is fierce; he's intense. You really have to show both sides."
Will's possession scenes were some of the most gripping of season 2, and Netflix is right to push Schnapp for an Emmy this year. He was the reason to watch this year. Though I hope when season 3 of Stranger Things comes around, Will Byers can just take a very long vacation.