Here's Your First Look At Disney's 'Rocketeer' Animated Series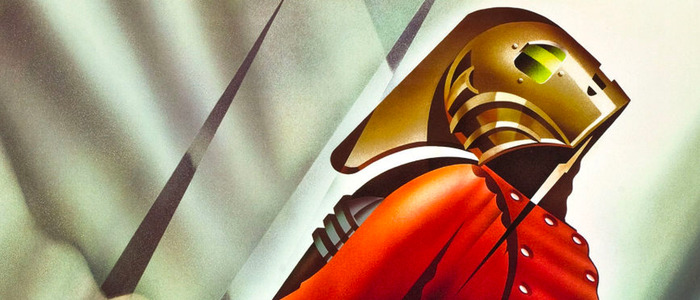 Disney is reviving the '90s adventure film The Rocketeer as a new animated series, and we now have our first look at the show. It's a bit underwhelming as far as first looks go, but it'll do for now. See the Rocketeer animated series image below.
In 1991, Disney released The Rocketeer, an exciting, old-school adventure flick about a pilot who gets ahold of a jet pack and turns into a kind of superhero. It was a heck of a lot of fun (and had a killer musical score), but audiences didn't quite take to it. In fact, the film flopped. In the years since its release, however, The Rocketeer has gained a strong following. Fans have been clamoring for a sequel, and in 2016, Disney announced a follow-up film called Rocketeers. That sequel has yet to materialize, but in the meantime, Disney has forged ahead with an animated series. Here's your first look at the show (via Variety).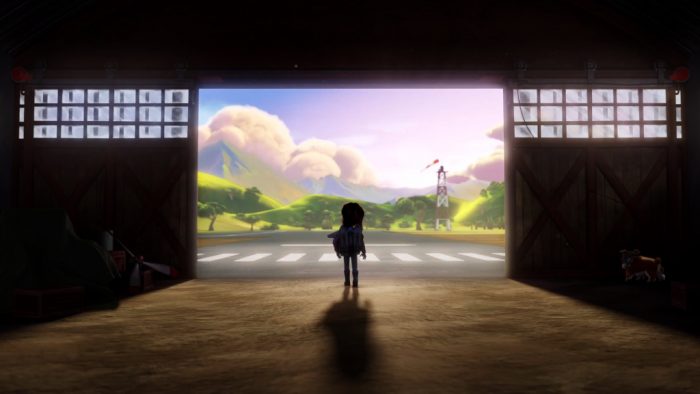 Two thoughts about this. One – the art is lovely, and brimming with imagination. We see the silhouette of the main character – Kit – as she stands, holding the famous jet pack, looking off towards the horizon. Adventure awaits! Two – is this really the best first look Disney could release? We couldn't even get an image of Kit flying through the air? Or in costume? Really? Perhaps it's just too early to release anything more than a teaser. This is technically concept art, so I'm sure we'll get something more detailed soon.
As previously reported, The Rocketeer "follows Kit, a young girl who receives a surprise package on her birthday revealing that she's next in line to become the Rocketeer, a legendary superhero who has the ability to fly with the help of a rocket-powered jet pack. Armed with her cool new gear and secret identity, Kit is ready to take flight and save the day with her gadget-minded best friend, Tesh, and airplane-mechanic uncle, Ambrose, who join her on epic adventures."
This sounds promising, but I'm also still holding out hope that Disney will go-ahead with their live-action sequel as well. Primarily because this new Rocketeer animated series has The Rocketeer being "reimagined for the 2-5 year-old audience for Disney Jr." Which means it's going to be a bit out of my age-range. The show will be a 3D CGI series that "will be set in the contemporary world and...depart substantially from the original comics." That sound fun, but please – give me a live-action sequel set in the 1930s like the original film. I'm begging here, Disney.
The Rocketeer animated series has no premiere date yet.