'Once Upon A Time In Hollywood' Is Giving Los Angeles A 1969 Facelift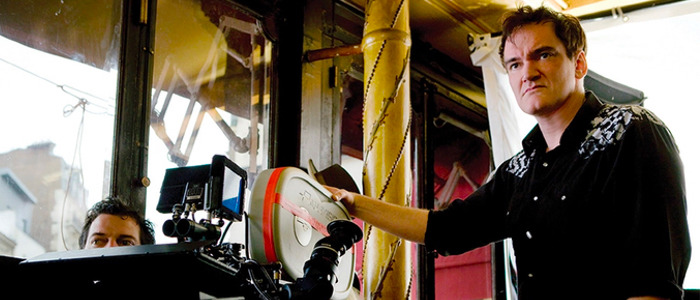 Quentin Tarantino's Once Upon a Time in Hollywood has begun filming (second unit stuff, at least). As a result, the filmmaker and his crew are transforming parts of Hollywood into 1969 (nice). See some Once Upon a Time in Hollywood set pics below.
Once Upon a Time in Hollywood is set in Los Angeles during the summer of 1969, which means it's going be loaded with period-appropriate details. It's also going to give Quentin Tarantino the chance to go into nostalgia-overload, something he's wont to do. Tarantino and his crew are apparently already shooting some footage for the film, as several set pics have filtered online. The set pics all involve the Cinerama Dome on Sunset Boulevard in Hollywood, California. The theater first opened in 1963, and is still operational to this day. The Once Upon a Time in Hollywood crew redecorated the theater to take it back to the 1960s, as these pics reveal.
Cinerama Dome Given 1969 Facelift for Quentin Tarantino's ONCE UPON A TIME IN HOLLYWOOD
The images show the theater advertising the 1969 disaster film Krakatoa, East of Java, about a volcanic eruption.
Another pic on Twitter shows frequent Tarantino cinematographer Robert Richardson at work.
@slashfilm This photographer I follow on Instagram (@notadeadhead) just posted the first set photo I've seen (maybe first at all?) from Once Upon A Time In Hollywood, thought I'd send it your way pic.twitter.com/RDxZ9elYxz

— Jacob Sturdevant (@boredjustvacant) June 14, 2018
Some more Twitter images offer additional looks at the dressed Cinerama.
This is what Sunset Blvd looked like today in front of the The Cinerama Dome! It was completely transformed back to 1969. I bet it was for the new #Tarantino film. pic.twitter.com/ESafpxbfkY

— Vintage Los Angeles (@alisonmartino) June 13, 2018
If you're in the area and thinking of running over to see if you can catch a glimpse of the star-studded cast Tarantino assembled for the film, hold your horses. A Cinerama employee told Indiewire "it was not a full-fledged production but more of a second-unit effort: 'They just wanted to get the sun going down and the lights coming on.'" In other words, it looks like Richardson and company are just shooting some exterior establishing shots, and not scenes involving characters.
As an interesting side-note, Tarantino has a bit of a rocky history with the Cinerama. In 2015, the filmmaker was livid when the theater pushed his The Hateful Eight out of the Cinerama dome to make way for Star Wars: The Force Awakens. That said, Tarantino's ire was more directed at Disney for forcing the theater's hand than the Cinerama itself.
Once Upon a Time in Hollywood follows several characters in and around LA in the summer of 1969, as the specter of Charles Manson and his Manson Family lurk in the background. The huge cast includes Leonardo DiCaprio, Brad Pitt, Al Pacino, Margot Robbie, Burt Reynolds, Kurt Russell, Dakota Fanning, and many, many more.
"It takes place during the 1969 Hollywood era at the height of the counterculture explosion," Tarantino said in the past, "at the time of the hippie revolution...During the summer, little by little, block by block, we'll be transforming Los Angeles in the psychedelic Hollywood of 1969."
Once Upon a Time In Hollywood opens on August 9, 2019.