Tokyo DisneySea Announces $2.3 Billion Expansion With 'Peter Pan,' 'Tangled,' 'Frozen' Areas And In-Park Hotel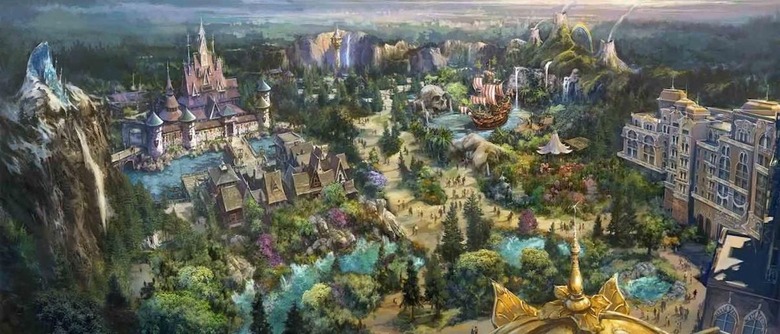 After months of rumors and speculation, Tokyo Disney Resort has finally announced concrete details of a major new expansion, the largest ever for the second of its two parks, Tokyo DisneySea. The projected $2.3 billion expansion will see DisneySea building out into an adjacent parking lot, much like Disneyland Resort did two decades ago when it first began construction on Disney California Adventure.
DisneySea actually opened in 2001, the same year as California Adventure, and now the sea-themed park — which contains "ports" instead of lands — will be adding an eighth mega-port with three new areas themed to Peter Pan, Tangled, and Frozen. These are all three straight-up Disney movie properties, so it should come as good news to more traditional fans who have questioned the encroachment of newer IPs like Pixar, Marvel, and Star Wars on their favorite Disney parks. While the Star Wars hotel coming to Walt Disney World will be the first stateside hotel connected to a Disney park, DisneySea already has one in-park hotel and now it will be adding another as part of this expansion.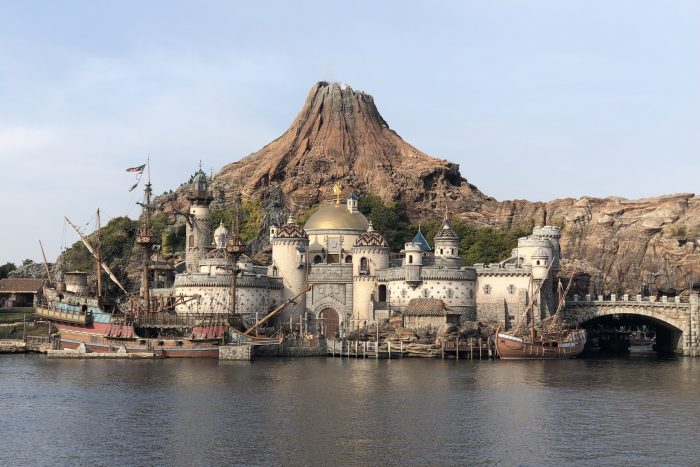 It's worth noting that the existing theme park development at Tokyo Disney Resort already broke ground on a $680 million expansion last April. Citing unnamed sources, reports of an additional multi-billion dollar expansion first surfaced last November. Early rumblings for the expansion pointed toward a possible third park with a Japanese theme or a sky and space theme joining the resort.
This is the first time, however, that Oriental Land Company (the owner and operator of Tokyo Disney Resort) has made an official announcement. In addition to renewing its license with Disney all the way through 2076, the company issued details through an English press release today for a large-scale expansion "themed to magical springs that lead to a world of Disney fantasy." Four new attractions, three new food facilities, and the aforementioned in-park hotel will make up the three areas of this new port.
Let's take a look at how each area and that ultra-cool hotel-within-a-theme-park will be designed.
Frozen Area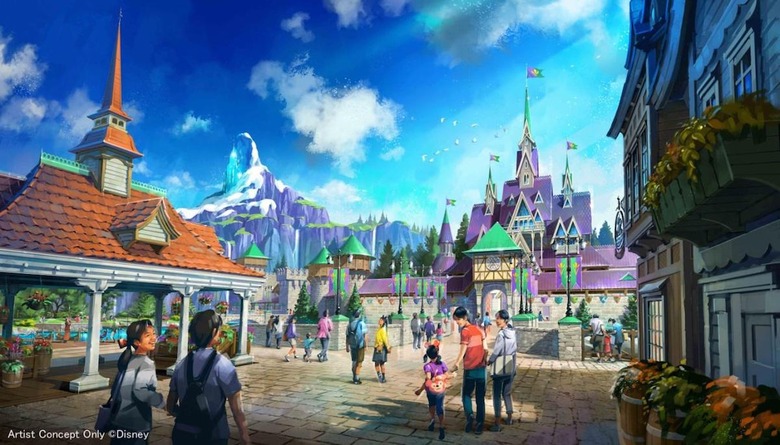 Here's the description of the Frozen area:
"This area is set in Arendelle after the events in the film when Queen Elsa has embraced her magical power to control snow and ice. She has since opened the castle gates so that Guests can freely visit the Kingdom. Located here will be a heartwarming attraction that tells the story of Elsa and her beloved sister, Anna. Guests will board boats and experience the sisters' heartfelt journey while enjoying iconic songs from the film and encountering surprising thrills. Also located in this area will be a restaurant set inside Arendelle Castle at the foot of beautiful, snow-capped mountains."
While the press release puts emphasis on the "one-of-a-kind" nature of the resort under this new expansion, it sounds like the attraction in the Frozen area could be modeled after the popular Frozen Ever After ride at Walt Disney World's Epcot in Orlando, Florida.
Tangled Area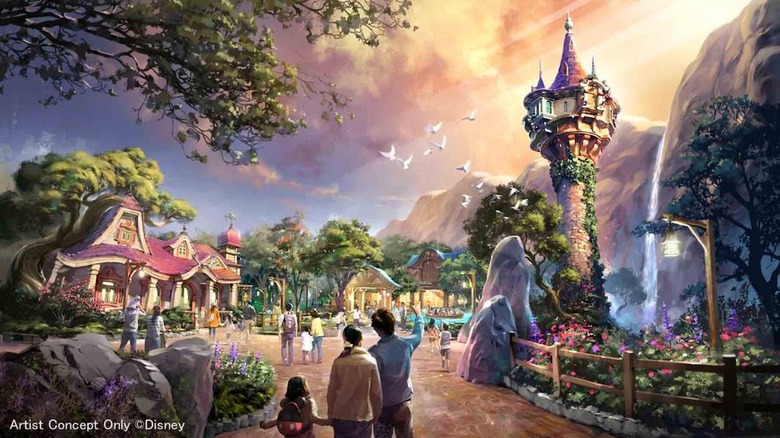 Rapunzel's tower from Tangled does exist at the Magic Kingdom in Florida, but it's more of a background decoration in Fantasyland. DisneySea's new port will build a whole area themed to Tangled around the tower. The description is as follows:
"Guests visiting this area will discover Rapunzel's tower rising above in a charming forest. The area will include an attraction that follows Rapunzel to the lantern festival and a restaurant inspired by the hideout of the humorous band of thugs who appeared in the film. In the attraction, Guests will board gondolas for a romantic boat tour of Rapunzel's 'best day ever' as she journeys with Flynn to the lantern festival. Countless flickering lanterns illuminate the attraction's climactic scene while Rapunzel and Flynn sing an iconic song from the film, building to an unforgettable finale."
Peter Pan Area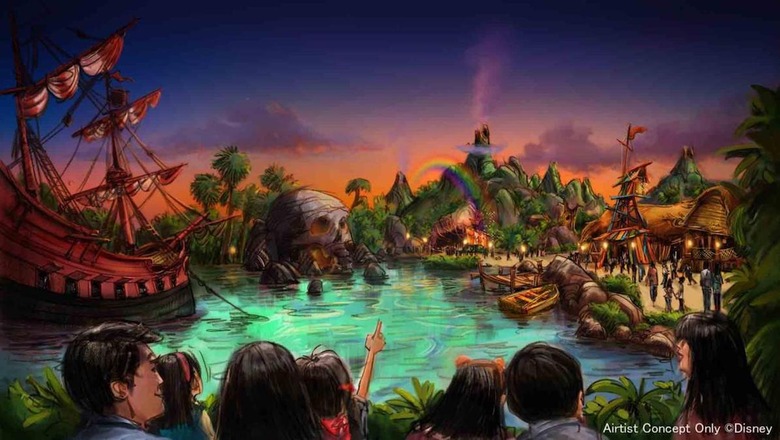 Disney just recently opened up the Disney Vault, allowing Peter Pan to fly out in a new Digital HD and Blu-Ray release for his 65th anniversary. Now he'll be flying all the way to Tokyo:
"Home to two attractions and a restaurant, the Never Land area will feature landmarks that make that fantastical world so memorable, including verdant mountains, Captain Hook's pirate ship and Skull Rock. One attraction will fly Guests over the jungles of Never Land into a battle with Captain Hook and his crew of pirates. Guests will join Peter Pan in an adventure to rescue Wendy's younger brother, John, who has been kidnapped by Captain Hook and his pirates. Guests board boats and follow the Lost Boys down a river. When Tinker Bell sprinkles the boats with pixie dust, Guests find themselves flying through Never Land on an unprecedented adventure that features iconic music and dynamic 3D imagery of the characters from the film."
Disneyland Paris already has Captain Hook's pirate ship and Skull Rock, but here they will be integrated into a new environment, which will also include a Tinker Bell attraction and Lost Boys restaurant:
"A second attraction immerses Guests in the oversized world of Pixie Hollow where Tinker Bell and her fairy friends live and work. The restaurant is inspired by the Lost Boys and their hideout, affording lovely views of Never Land that Guests can enjoy while they dine."
New In-Park Hotel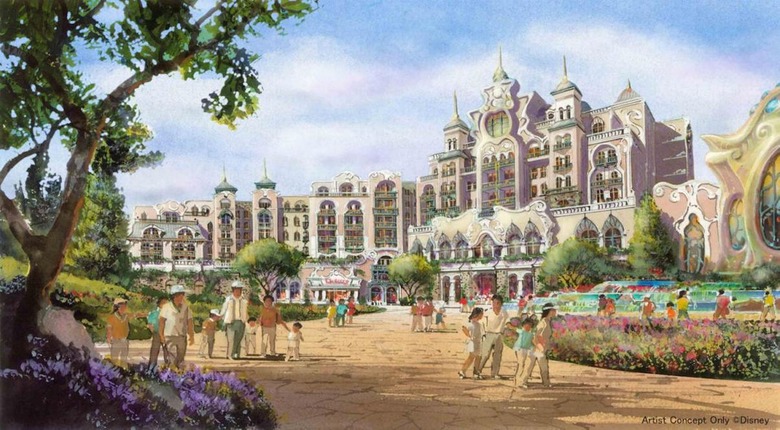 A hotel located inside a Disney park pretty much sells itself, but here's the description of the new one, which will supplement the existing Hotel Miracosta as Tokyo DisneySea's second in-park hotel:
"Themed to Disney fantasy, the new Disney hotel will be located inside the Park. The hotel will rise above and around the magical springs that serve as the core of the new themed port's story. Park-facing rooms will provide beautiful views of the port's majestic landscape, affording Guests a magical experience that can only be had at this hotel. The Disney hotel will offer 475 deluxe-type and luxury-type guest rooms, with the latter providing the finest accommodations in Tokyo Disney Resort."
Giving Guests Breathing Room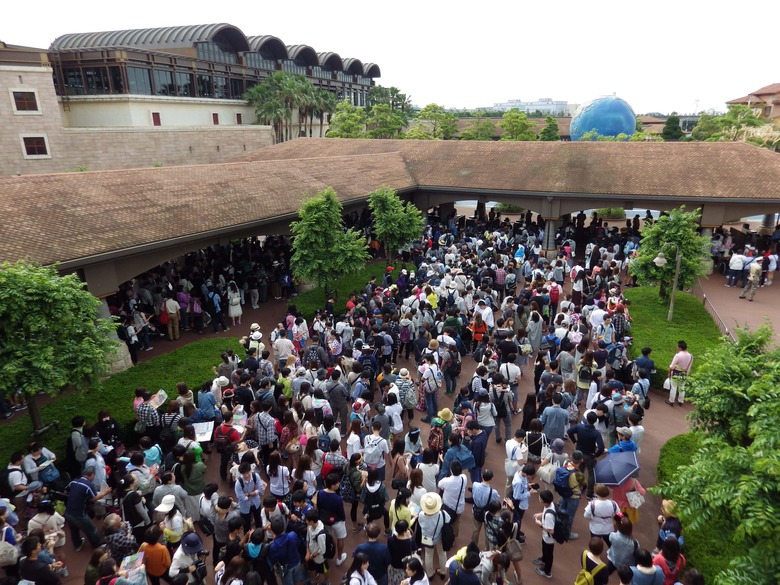 News of this expansion comes as a year-long 35th-anniversary event is underway at Tokyo Disneyland, which opened in 1983 as the first Disney park outside the United States. The expansion move makes sense for Tokyo Disney Resort, which suffers from perennial overcrowding and has faced increased competition in recent years from other theme parks in Asia like Universal Studios Japan in Osaka, Hong Kong Disneyland, and Shanghai Disneyland.
While it is technically located outside the city limits of Tokyo, in Urayasu, Chiba, the resort is still in close proximity to a densely populated metropolis. Train passengers flood the platform at Maihama Station every day and while the resort's existing parking lot does see use, it's a much different situation here than it is Walt Disney World, where people almost uniformly drive or take the bus into Disney. In the same way that Disneyland Resort transferred cars to a multi-story facility when it built California Adventure, Tokyo Disney Resort will shift its parking to a new three-story structure in the future.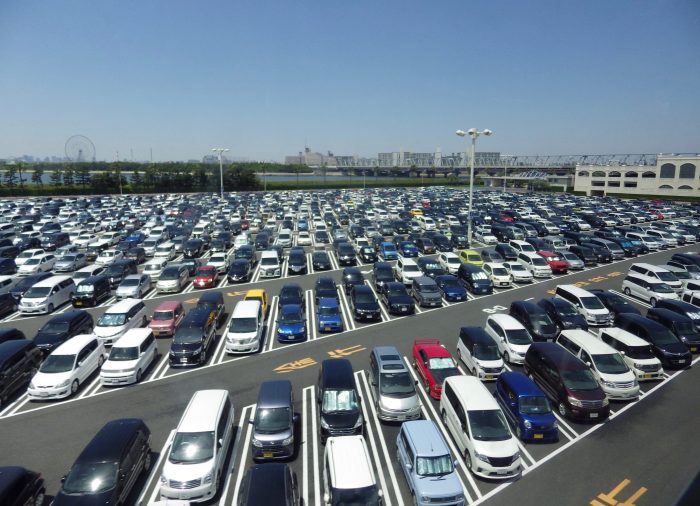 In its 2017 fiscal year, Tokyo Disney Resort logged over 30 million visitors. On a day-to-day basis, congestion at the parks is highly variable, with weekends, public holidays, and school vacation periods being the busiest times. Normal crowds at Tokyo Disneyland bring in about 35,000 people, whereas an especially busy day can bring in up to 70,000 people.
During these times, it is not unheard of for the parks to reach capacity and suspend ticket sales for the day. Popular thrill rides like Journey to the Center of the Earth have been known to post a wait time of 200 minutes or more. Just recently, on June 9, 2018, when Donald Duck celebrated his 84th birthday at Tokyo Disneyland, there was a whopping 600-minute wait to meet the character.
This next stage of resort expansion, which is scheduled for completion in the 2022 fiscal year (meaning anywhere between April 2022 and March 2023) aims to disperse crowds and increase guest satisfaction. In addition to it, the project that broke ground last year will bring new rides based on Beauty and the Beast, Big Hero 6, and other properties to Tokyo Disney Resort in time for the 2020 Tokyo Summer Olympics.