Pop Culture Imports: A Sleek Thai Teen Heist Film, The Best Romantic K-Drama Right Now, And A Gripping Palestinian Thriller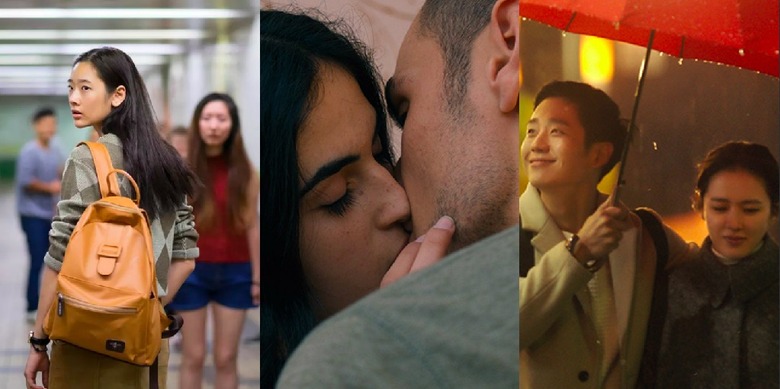 (Welcome to Pop Culture Imports, a column that compiles the best, wackiest, and weirdest foreign-language movies and TV shows streaming right now.)
Hello lovers of subtitles and soapy Asian dramas! June is here, and that means a whole new batch of foreign-language titles are coming your way. Our offerings this month include a zippy Thai heist film that broke box office records all over Asia, a Palestinian thriller with a tender love story, the hottest Korean romantic drama out right now, a biopic about a young and sexy Karl Marx, and a South Korean variety show that makes American variety pale in comparison.
Let's dive in.
1. Bad Genius – Netflix
Country: ThailandGenre: Heist thrillerDirector: Nattawut PoonpiriyaCast: Chutimon Chuengcharoensukying, Chanon Santinatornkul, Teeradon Supapunpinyo, Eisaya Hosuwan.Bad Genius is a frenzied heist thriller with a breakneck editing style that would make Edgar Wright blush. The Thai heist film, which broke box office records across Southeast Asia and became Thailand's highest grossing movie of 2017, is a surprisingly gripping film that marries the teen ennui of Sofia Coppola with the energetic visual dexterity of Wright. Director Nattawut Poonpiriya tackles the somewhat silly subject — a genius scholarship student who starts a cheating crime ring in order to pay her way through school — with such verve and style that you immediately get engrossed. Bad Genius follows high school student Lynn (Chutimon Chuengcharoensukying), who manages to score a scholarship at a prestigious school. There, she is immediately befriended by the popular but somewhat airheaded Grace (Eisaya Hosuwan), who she begins to help by leaking answers to a test. But Grace brings in her smarmy, rich boyfriend Pat (Teeradon Supapunpinyo), and the cheating escalates into a full-fledged crime ring. A noir-tinged, kinetic heist thriller, Bad Genius has no right to look as good and be as good as it is.Watch This If You Like: Baby Driver, Trainspotting, The Perfect Score, Ocean's 11, waking up from nightmares where you were taking an exam you didn't study for.
2. Omar – Fandor
Country: PalestineGenre: Drama, ThrillerDirector: Hany Abu-AssadCast: Adam Bakri, Eyad Hourani, Samer Bisharat, Waleed Zuaiter, Leem Lubany.
"You used to write cheerful stories, did I make your life miserable?"
Omar is a tender story of star-crossed lovers embedded in a harrowing, complicated political political thriller about the Palestinian conflicts. But it's no Romeo & Juliet. Containing more tragic twists and betrayals than Shakespeare tragedies, director Hany Abu-Assad wisely grounds his button-pushing film in the melodrama of a Palestinian baker who regularly climbs the West Bank barrier to visit the love of his life, Nadia. Nonchalantly avoiding the barrage of bullets that greets him whenever he makes the climb, Omar is a stoic and achingly normal man who Adam Bakri imbues with heart and feeling. Omar ends up joining a Palestinian rebel faction with his childhood friends Tarek (Eyad Hourani) and Amjad (Samer Bisharat) after he is humiliated by the Israeli military, but is arrested after they manage to kill an Israeli soldier. Tortured and blackmailed, Omar is left with no choice but to become an informant against his friends. Omar sprinkles disarmingly tender moments between the tension, which only leaves you more on edge for the high-octane chase scenes (which could rival a Bourne movie). Naturalistic, fraught, and raw, Omar is a thriller with unexpected depth.Watch This If You Like: A Prophet, La Haine, political turmoil.
3. Something in the Rain – Netflix, DramaFever
Country: South KoreaGenre: RomanceDirector: Ahn Pan-seokCast: Son Ye-jin, Jung Hae-in, Jang So-yeon, Wi Ha-joon, Gil Hae-yeon, Oh Man-seok.
Where has the romantic comedy gone? Over to Korea, it seems. Plenty of articles have written about the demise of the genre, but the rom-com is seeing a revival in the TV and movies this summer — and most importantly, in the best K-dramas that South Korea has to offer. Something in the Rain sounds like a terribly generic romantic soap (though to be fair, its literal Korean title, Pretty Sister Who Buys Me Food, is hilariously unique), and in some ways it is. The 16-episode drama is peppered with so many scenes that came straight out of rom-com classics like Bridget Jones' Diary — drunken singing after a break-up, a perfectly attractive 35-year-old woman wallowing in her inevitably spinsterhood — that it would be easy to write off Something in the Rain as a conventional cheesefest. But there's something more to it. Son Ye-jin plays the 35-year-old Jin-ah, who is reeling from a break-up with her cheating boyfriend, and finds company in her best friend's younger brother, Joon-hee (Jung Hae-in), who has just returned home after three years abroad. But unexpectedly, she finds herself falling in love with the man she always considered an annoying younger brother — who, in a fun reversal of rom-com tropes, ends up fulfilling the role of the younger, quirky love interest who inspires the heroine to better herself. Something in the Rain balances romance, slice-of-life moments, and a workplace subplot about microaggressions and sexual harassment. But it succeeds thanks to the sizzling chemistry of leads Son and Jung, who bring the kind of sweeping romance that we've been missing from the big screen.
Watch This If You Like: Younger, Bridget Jones' Diary, Prime, drinking and singing too loudly to sad love songs after a break-up.
4. The Young Karl Marx – Amazon Prime
Country: Germany, FranceGenre: Historical dramaDirector: Raoul PeckCast: August Diehl, Stefan Konarske, Vicky Krieps, Olivier Gourmet, Hannah Steele.
Like the title suggests, The Young Karl Marx is about a young hot Karl Marx (August Diehl)who does fuck, but mostly sits around tables drinking and philosophizing with his best friend and writing partner Friedrich Engels (Stefan Konarske). And despite its title, The Young Karl Marx isn't about Marx entirely, but about the buddy-comedy between the two philosophical giants. Following Marx and Engels in the days around when they meet until their publication of The Communist Manifesto, The Young Karl Marx is a brisk, compelling, and funny biopic anchored by great performances and lavish, if somber, cinematography. Diehl and Konarske are standouts of course, but it's Phantom Thread's Vicky Krieps who steals the show as Marx's wife Jenny, giving an unsurprisingly radiant turn in the few scenes she has.
Watch This If You Like: Singing along to the soundtrack of Les Miserables.
5. Busted! – Netflix
Country: South KoreaGenre: Variety showCreator: Jang Hyuk-jae, Cho Hyo-jin, Kim Ju-hyungCast: Yoo Jae-suk, Ahn Jae-wook, Kim Jong-min, Lee Kwang-soo, Park Min-young, Oh Se-hun, Kim Se-jeong.Busted! is reminder that American variety needs to step up their game. The first co-production between Netflix and Korean production company SangSang (Running Man, Family Outing), Busted! is a rollicking success of a mystery variety show whose antics and gags only get more ridiculous. Busted! features seven Korean celebrities who are brought on as "expert sleuths" to solve the mystery of an operation called Project D. After witnessing a "murder," the sleuths set off the uncover the mysterious organization led by a man only known as "K" (Ahn Nae-sang). While the set-up is a little contrived, the games and missions are a true joy to watch. From elaborate puzzles to back-breaking mazes, the seven celebrities encounter fun and complex obstacles that we rarely see on American TV.Watch This If You Like: Running Man, Infinity Challenge, needlessly complicated Escape Rooms.