Ewan McGregor To Star In 'The Shining' Sequel 'Doctor Sleep'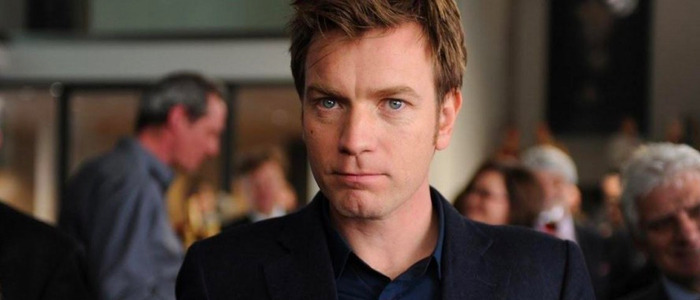 Ewan McGregor will play the grown-up Danny Torrance in Mike Flanagan's The Shining sequel Doctor Sleep. The film is based on the Stephen King novel of the same name, which finds an adult Danny still suffering from emotional and psychological scars from the events that happened at the Overlook Hotel.
Yet another Stephen King adaptation has landed an exciting actor. Variety confirms that Ewan McGregor has joined the cast of Doctor Sleep, a direct sequel to The Shining. McGregor will play the adult Danny Torrance, who you might remember as the kid shrieking "redrum" over and over again in the Stanley Kubrick adaptation of King's classic tale of terror.
King published Doctor Sleep in 2013, and I'll be honest with you: the book stinks. I'm a dyed in the wool Stephen King fan, and I could barely get through the damn thing. Even though both books feature similar characters, Doctor Sleep is very different than The Shining. And while the concept of checking-in on a traumatized Danny Torrence sounds promising, King's execution leaves a lot to be desired. For instance: Doctor Sleep trades in all of the dread of The Shining for a story that features a gang of psychic vampires.
Here's the book's official synopsis.
On highways across America, a tribe of people called the True Knot travel in search of sustenance. They look harmless—mostly old, lots of polyester, and married to their RVs. But as Dan Torrance knows, and spunky twelve-year-old Abra Stone learns, the True Knot are quasi-immortal, living off the steam that children with the shining produce when they are slowly tortured to death.
Haunted by the inhabitants of the Overlook Hotel, where he spent one horrific childhood year, Dan has been drifting for decades, desperate to shed his father's legacy of despair, alcoholism, and violence. Finally, he settles in a New Hampshire town, an AA community that sustains him, and a job at a nursing home where his remnant shining power provides the crucial final comfort to the dying. Aided by a prescient cat, he becomes "Doctor Sleep."
Then Dan meets the evanescent Abra Stone, and it is her spectacular gift, the brightest shining ever seen, that reignites Dan's own demons and summons him to a battle for Abra's soul and survival. This is an epic war between good and evil, glorious story that will thrill the millions of devoted readers of The Shining and satisfy anyone new to this icon in the Stephen King canon.
Though I am not a fan of the Doctor Sleep book, I'm curious as hell about this film adaptation. For one thing, King's Shining novel is vastly different than Stanley Kubrick's Shining film – a fact that drives Stephen King crazy to this day. Will this film serve as a kind-of sequel to Kubrick's movie, or will it ignore Kubrick's work completely and stay true to King's book? Or will it find a way to combine the material and make some sort of quasi-hybrid that blends Kubrick and King?
The other element that keeps me interested in this project is the presence of director Mike Flanagan. Flanagan is one of the best horror filmmakers working right now, and his Netflix adaptation of King's Gerald's Game proved he has a knack for turning less-than-great King books into more-palatable movies. This addition of McGregor in the lead is a plus as well – he's a talented performer, and I'm sure he'll bring a lot to this role.
Doctor Sleep is just one of several Stephen King projects in development. After the box office success of 2017's It, everyone wanted to catch a ride on the Stephen King adaptation train. Other King-related adaptations include It Chapter 2 ; Pet Sematary, Hulu's Castle Rock; The Long Walk; The Tommyknockers; a 10-hour miniseries adaptation of The Stand; The Bone Church; Amazon's Dark Tower series; Netflix's In The Tall Grass; and The Gingerbread Girl. I'm sure 10 more adaptations were just announced as I was typing all that.Doctor Sleep opens on January 24, 2020.