'Unfriended: Dark Web' Trailer: Death Wants Some Face Time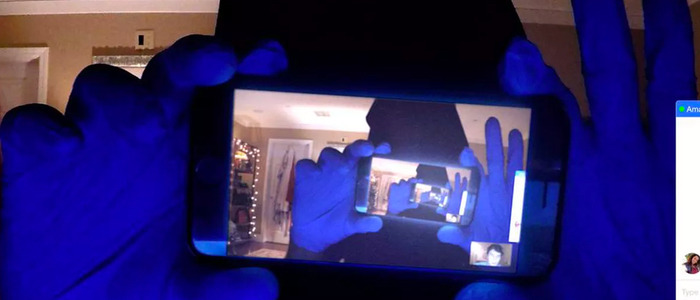 The surprisingly effective 2014 computer-driven horror film Unfriended gets the sequel treatment with Unfriended: Dark Web. The film focuses on a teenager who finds hidden files on his new laptop, and soon learns that the previous owner has been spying on him the entire time. Watch the Unfriended: Dark Web trailer below.
Unfriended: Dark Web Trailer 
I love a pleasant surprise. I remember seeing trailers for the first Unfriended movie and thinking, "Boy, that looks stupid." But you know what? Unfriended was pretty darn good. It took what could've been an annoying concept – the entire film is told from the point-of-view of computer screens – and made it work in a highly effective manner.
Now here comes Unfriended: Dark Web, a sort-of sequel-in-name-only. The same "found-footage on a computer screen" set-up is there, but while the first Unfriended dealt with supernatural matters, Dark Web is focused on something more sinister. The plot has a teen acquiring a new laptop, only to discover the laptop's previous owner has been watching him.
When Unfriended: Dark Web writer-director Stephen Susco was first approached about the sequel, he thought it would be impossible. "" was like, 'Oh God, I can't do a sequel to (Unfriended)," the director told SyFy. "This movie was great! It was so singular, how do you sequelize that?" Susco said, adding, "Besides the fact that everybody was dead!"
At first, Susco considered retconning Unfriended to bring back one of the characters, then decided to forge ahead with something new. "[The first film] was so outside of the box," he said. "No one had ever done anything like it. So the last thing I wanted to do—especially with my first film (as a director)—was something that someone else already did. So, I pitched the idea of doing something completely different, but using the exact same narrative form and saying, 'What if the franchise was the form?'"
/Film's Jacob Hall saw Unfriended: Dark Web at SXSW and thought it was a "cruel and clever evolution of the first film." In his review, Jacob wrote:
It's hard to not think about Cloverfield, and that second definition of franchise, while watching writer/director Stephen Susco's Unfriended: Dark Web. Here's a horror sequel that looks an awful lot like the first film, but shares nothing with it beyond the fact that it's told entirely though a computer screen. The threats couldn't be more different and the tone is a hard left turn from the teen-friendly, popcorn-flavored jolts of Unfriended: Original Recipe. Instead, Dark Web is darker, meaner, and far more clever. It's more polished, more in control of how to tell a story in this format. It's a sequel in name only and it's an improvement in every single way.
Unfriended: Dark Web opens on July 20, 2018.